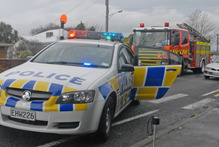 Great South Road in Auckland has been closed tonight after a serious crash between a truck and car.
A male driver is in a critical condition after the crash at the intersection with Mt Richmond Drive in Mt Wellington.
Diversion are now in place, with traffic diverted onto Mt Wellington Highway from Portage Road to the south and Vesty Drive, to the north of the scene.
The injured man was cut from his vehicle and is now being transported to hospital. Ambulance staff consider his condition to be critical.
Police said the diversions are expected to remain in place for several hours, due to the position of the vehicles involved and the fact that one of them is a large truck.
Motorists are advised to avoid the area completely if possible.
- HERALD ONLINE