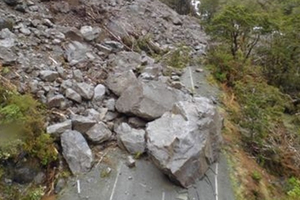 Engineers are aiming to have at least part of the road to Milford Sound open by Wednesday, but the weather could get in the way of their plans.
A series of slips have closed the only road into Milford Sound, following severe weather on Friday night.
Boulders weighing up to 200 tonnes have crashed down onto the road.
New Zealand Transport Authority Southland area manager Peter Robinson said engineers were drilling through some of the larger rocks and excavators were working on two smaller slips near the main slip.
It was hoped one lane could be opened by Wednesday but the weather was a "big factor" and the deadline was optimistic, he said.
Rain was forecast for tomorrow, and snow for Wednesday.
Milford Sound Lodge manager Japke Doodeman (correct) has said the closure meant the lodge was losing about 30 people a day.
"But considering all the boat companies and kayak companies that have buses coming in on a daily basis as well, it's quite a lot more than that."
There were 26 people staying at the lodge when the road was closed. Most had been flown out of the area.
Milford was "regularly" cut off, and the business was prepared when it happened, but this weekend's slip was "massive", she said.
"Over winter it does happen a bit more often, definitely towards the spring season because that's when the avalanche risk gets higher.
- APNZ