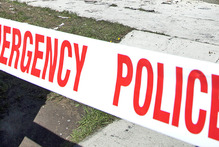 A house in Hastings is being investigated by police after a five-month-old baby was admitted to Hawke's Bay Hospital.
Five patrol cars arrived at the Montgomery St address about 11am today and officers assessed the backyard from an adjacent property.
"The baby was admitted [yesterday] morning," Dave Greig, Detective Senior Sergeant and child protection co-ordinator for Eastern District Police said.
"Initially we had fears for the health of that baby.
"It appears the baby has suffered a head injury but it doesn't seem to be serious. The child is responsive, awake and feeding."
Police would continue their investigation into circumstances surrounding the incident and a guard had been put in place to secure the scene.
"We haven't made any arrests, we are just trying to establish what happened."
The child remained in hospital for further tests and medical examinations.
Hawke's Bay Today approached the baby's grandmother who received confirmation that the head injury was minor.
"The main thing in our minds was the baby, but I have heard that it's Ok. It was a little bump to the head, not a major injury."
By Amy Shanks of the Hawke's Bay Today