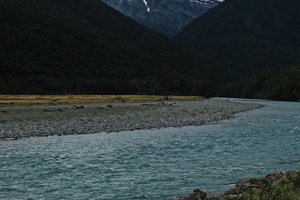 The Mokarora River. File photo / Paul Estcourt
Search and rescue teams have found the body of a 65-year-old Wanaka man in the Makarora River at the head of Lake Wanaka.
The missing man was Murray Austin Rivers.
Police said Mr Rivers and two companions were in a jet-boat which got into trouble after suffering engine failure on the Makarora River last night.
The boat hit a gravel bar and capsized and Mr Rivers' companions were thrown into the water.
When they got to the river bank there was no sign of the boat or Mr Rivers. The pair then made their way across farmland to raise the alarm in Makarora township about 8.30pm.
Sergeant Aaron Nicholson, of Wanaka, said an immediate search was initiated involving LandSAR teams, the Hawea Marine Group, Wanaka Coastguard and a night vision equipped helicopter from Queenstown.
The 16ft aluminium jet boat was located early in the search, beached in a shallow section of river braid near the mouth of the Makarora River but there was no sign of Mr Rivers.
Police deployed teams again this morning and at 9am a LandSAR team discovered the missing man's body in the river, snagged below the surface by a sunken willow tree about 150 metres from the jet boat.
Police have referred the matter to the coroner for a full investigation.