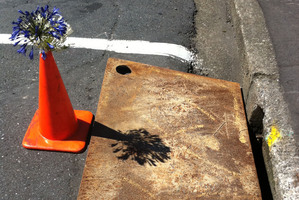 Well-known Wellington strip club The Mermaid Bar will have to close its doors on a Friday night as a result of serving alcohol to an intoxicated man who took it off the premises and later died when he fell down a drain.
The adjoining brothel will also have to close its doors for two nights.
Police confirmed the Mermaid Bar and Splash Club - both owned by sex entrepreneur brothers Michael and John Chow - had their liquor licences suspended following an investigation into the death of Peter Black.
Mr Black, 43, was discovered in a roadside drain in a carpark near Te Papa on January 14.
His body had been in the drain for almost 30 hours before it was found.
It was believed he was trying to retrieve his car keys when he got stuck in the drain. He had been drinking at both premises on the night he died.
Sergeant Terry Fraser said police applied to suspend the licences following breaches of the Sale of Liquor Act between January 13 and 14 this year.
The Mermaid Bar supplied alcohol to Mr Black, who then drank it off the premise. The Splash Club supplied liquor to Mr Black despite him being intoxicated.
The licences have been suspended; the Mermaid Bar for 24 hours and the Splash Club for 48 hours.
The Mermaid Bar would close at 5pm on Friday October 19 and the Splash Club would close from 5pm on October 25.
"The decision by the Authority is a strong reminder that when licences or managers fall short of their legal or professional obligations, they can expect police to actively follow these breaches up through the Liquor Licensing Authority," Mr Fraser said.
"However, patrons equally must take responsibility for their drinking, as does the wider community in reducing the damage caused by alcohol."
Mr Black's death is still before the coroner.
- APNZ