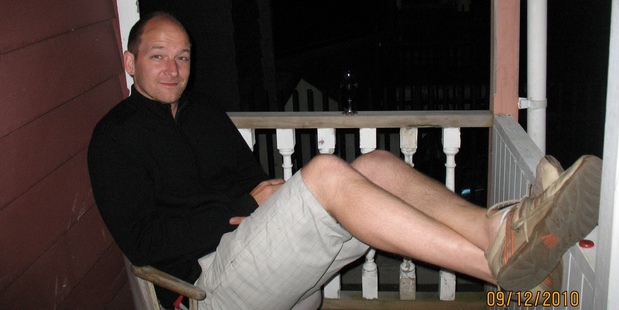 A year ago Billy Dawson suffered fatal injuries after he was king-hit outside a bar in the Viaduct. The aftermath gave his brother-in-law, newspaper editor Coen Lammers, an insight into the impact of crime. Ahead of the sentencing of convicted killer Kit Murray, Lammers describes becoming part of the story
Tomorrow marks the worst day of my life and that of my family, the day that the life of Billy, my brother-in-law, was prematurely ended. It also happens to be my wife's birthday, a special occasion that is now ruined forever.
A day earlier, one year ago today, our family still lived in relative bliss. Yes, we all had been severely tested by the Christchurch earthquakes, at home and at work, and thought we were doing it tough.
Little did we know that the real nightmare was yet to begin.
Fate, and a function for the international rugby media had brought me to the Auckland Viaduct on October 6, and I was looking forward to catching up with my brother-in-law who was working on the World Cup as digital video producer for Sky Television.
Billy texted me that he was at a barbecue with his Sky workmates during their first day off from the RWC, so when he failed to show, I assumed he had a better offer.
We now know that he decided to stay with his friends and visit the bars on the Viaduct. In a horrible twist, Billy's life ended only metres from where I had just got into a taxi.
I have lost count of the times I wished we had met and things could have been so different.
Instead, I received the dreaded phone call just as I was heading to the airport.
At 5am, the police in Christchurch had visited my in-laws to tell them Billy had been in a fight and things were not good.
My wife asked me to go to the hospital and wait for her parents to arrive.
When I arrived at Auckland Hospital, Billy's former girlfriend was already there with two other friends. I am not sure what I expected but when I was told he was not going to make it, my mind started spinning.
I simply could not process the information that his skull had hit the pavement and that the swelling on the brain was too severe to save him.
A doctor guided me into a room where Billy's massive frame barely fit on the hospital bed.
Aside from a nasty face wound where the culprit had hit him, his body bore no scars, which made it even harder to understand what was happening.
It seemed incomprehensible that one stupid punch could end such a precious life.
Billy's distraught parents soon arrived, assisted by a wonderful female officer from the Auckland police.
With the arrival of the first detectives, the picture of the incident quickly emerged.
The family were keen to know what happened but some of the details were too hard to cope with.
Police told us that there had been a scuffle but that Billy had suffered a dreadful injury when he struck the pavement.
Bad news travels fast and as the day progressed, the small room on the third floor of the hospital turned into four wailing walls with dozens of friends and colleagues passing through to say their goodbyes.
It was odd to see many familiar faces from Sky and Prime programmes at Billy's bedside bawling their eyes out; those same television faces have now become a regular reminder of that dreadful day.
Many of his old Christchurch schoolmates jetted in from around the country to farewell their friend, who had clearly touched many lives around the country.
Seeing how many people held him dear was comforting but I regretfully realised that it sometimes takes a tragedy to fully appreciate a person's special qualities.
The support from all quarters was overwhelming, with the police, my employers at The Press and Billy's bosses at Sky TV all offering to pay for hotels and other costs.
I remember spending much of the day on the phone talking to family around the country and overseas, but also speaking to police, court officials and fielding calls from the media.
As a journalist it was a weird sensation to be part of the story, instead of being the reporter or editor chasing the grieving family.
It put me in an awkward situation and often at odds with police.
In my day-to-day life I have regular run-ins with police officials trying to stymie the flow of information, but on this sensitive day things just got silly.
After Billy had passed away around 5pm, the police were still reluctant to release his name to the media, even though my colleagues knew exactly what had happened and social media were overloaded with messages from around the world.
My poor colleagues at The Press were caught in a dilemma between breaking the news and trying not to offend their boss.
It was interesting how careful journalists get once they realise one of their own has been caught in the crime spotlight.
The following morning a copy of the New Zealand Herald in the hotel lobby carried a small story on Billy's death.
After scrutinising every word, I passed the paper over to the rest of the family.
Suddenly, I realised how sensitive I had become and how each sentence was of vital importance.
The slightest error or choice of words was now a reason to get upset and I now understand how a grieving family could easily direct all their anger at a media outlet.
I learned a quick lesson that morning and instead of waiting for some junior reporter to throw together a story on Billy that would upset my family, I returned some calls to journalists and gave them the information and the pictures they were after for the Sunday papers.
It demonstrated to me how valuable a bit of media knowledge can be in these circumstances.
Ever since our own brush with crime, I wonder why grieving families end up in front of a press conference, sometimes only hours after their own tragedy and question how much more traumatised some of them become.
On the flipside, this experience has been useful for my role as a newspaper editor as it has given me a better understanding and empathy for people who have lost a family member.
With ordinary family deaths, the funeral can be the symbolic closure but with court proceedings looming, it was impossible to move on.
Though some victims turn their attention to the perpetrator, our family decided not to give him any thought and instead tried to focus on Billy's memory.
The police liaison officer did his best to keep me informed over court developments but at times I did not want to know.
To my astonishment the courts decided to release Billy's attacker on bail before Christmas, despite the fact the attack happened while on bail for another alleged assault.
To make matters worse, the judge indicated that he needed to let him out on bail, as there would otherwise be little jail time left to hand out when the case finally came to court. This was the first indication of the possible sentence we could expect if he was found guilty.
The bail did not last long as the accused was recalled to jail in February after his accommodation was no longer deemed appropriate - whatever that meant.
Once the trial date was set for August, the police asked if we wanted to attend but none of our family could see the purpose.
Ever since making that call, I have been intrigued by other families who have been caught up in the court process, like the high-profile Scott Guy case, and wondered why some relatives are so keen to hear every detail and relive the trauma, day after day.
Even though we did not want to participate, the looming court date was clearly putting stresses on the family, with more tears and more irritations the obvious indicators.
Once the proceedings opened, my personal instincts were torn between those of the journalist who wants to know every detail and those of a grieving family member who just wants to get through all this agony.
The police liaison officer did a superb job keeping me in the loop with quick email updates, on top of the irregular media reports, which I could filter back to the family, trying to guess how much detail they wanted to hear.
Even though I felt well-prepared, I was still caught out by the pain the court testimonies caused, especially once the defence opened its case.
Somehow I had imagined this case to be pretty straightforward with plenty of witnesses.
Even the police officers were surprised the accused had not pleaded guilty.
Instead he decided to put up another fight and drag my dead relative through the mud.
His argument of self-defence painted Billy as the aggressor who had escalated the incident with racist remarks.
It had not occurred to me that nobody would be in court to stand up and speak for Billy.
The entire system is skewed towards the rights of the accused, with little concern for the victim or the family.
I was not the only one in the family who felt the urge to hop on a plane to Auckland, but even if I had been in the courtroom, there was nothing I could have done or said to make the defence stop insulting my dead relative.
Billy was far from a saint, but there was something very wrong with the way he was portrayed in such a public arena.
After the closing arguments, the jury did not take long to make the right call, confirmed by a brief text message from a former colleague in the courtroom: "Guilty".
I had expected to feel elated, but instead there was just emptiness and relief, due to the tiny concern that our unpredictable jury system would let the killer escape his punishment.
Tuesday's sentencing will be the end of a horrible passage that I would not wish on my worst enemy, and we hope our family can carry on with our lives.
First we are all bracing ourselves for tomorrow , the first anniversary of Billy's death and we are still trying to still make something out of his sister's birthday.
It seems a no-win situation.
Many people have told me things get easier after the first anniversary, but I really wonder.
Whatever sentence the judge hands down on Tuesday, the killer will be back with his family long before our healing is completed.
Coen Lammers is editor of the Ashburton Guardian.