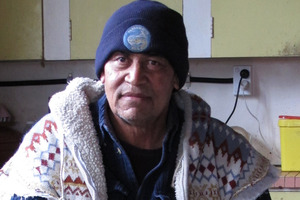 Disabled hunger striker Sam Kuha is hoping to meet Social Development Minister Paula Bennett in Auckland tomorrow.
The Mana Party organised a trip for Kuha to Work and Income's Ellerslie office yesterday to meet Ms Bennett but the minister had not been scheduled to visit there.
Kuha will return to Auckland tomorrow for a protest and a possible second attempt to meet Ms Bennett.
The 59-year-old invalid beneficiary said he had not eaten since September 14, when his request for a $40 food grant was declined by Work and Income in Kaikohe.
He is charged over an alleged window-smashing rampage through Kaikohe's Work and Income office.
He had refused to see a budget adviser because of the two-week wait and because his situation had not changed since his last budget.
Although his protest was initially directed at Work and Income's food grant policy, his focus has since broadened to the poverty affecting the children of beneficiaries.
He was driven to Auckland yesterday by supporter Arthur Harawira of the Mana Party's Kaikohe branch. Mr Kuha took his budget and bank statements, and had prepared a statement for the minister in which he urged her to "go and get the money to feed the kids and keep them warm".
"Who in this country would deny the kids that?" he asked.
Since his protest began he had heard many heart-breaking stories of people in similar, and worse, situations to his own.
"Their stories are unbelievable but they're true."
His supporters were setting up a phone line so people could share their stories. Their evidence would be collected and "slapped on someone's desk", he said.
Despite going three weeks without food, Mr Kuha said he felt "healthy as". Kaitaia GP Lance O'Sullivan is monitoring him.
Meanwhile, Mr Kuha has set up a bank account ("Feed the Whanau" at any BNZ branch) administered by his local foodbank for people wishing to donate. Any donations would be used to help families refused food grants and with children at risk of going hungry.
For more articles from this region, go to Northern Advocate