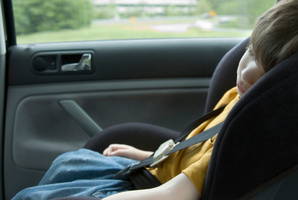 Child restraints will be mandatory for children aged up to seven under new rules announced by Government today.
Associate Minister of Transport Simon Bridges said the change to child restraint rules was needed to reduce crash injuries among young primary school-age children.
Under the current law, children up to the age of five must be placed in a children restraint such as a booster seat.
The new law will require children up to the age of seven to be placed in a restraint, while those aged between seven and eight have to use one if it is available.
Mr Bridges said the changes were made in line with international and local research on the risks adult seatbelts pose to children.
"Injury risk can be significantly reduced by having child passengers use age-appropriate restraints, such as booster seats. Extending the mandatory restraint requirements is an important step up."
The new mandatory limit aligns New Zealand's law with that of Australia, Mr Bridges said.
Public consultation will be carried out to make sure practical issues with the new rules are addressed, he said.
"We want to make the changes flexible enough that it doesn't create undue difficulties for taxi drivers or large families, for instance."