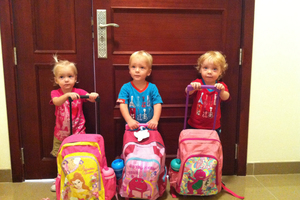 Journalists and academics have questioned the credibility of a report by a Saudi news agency that claims the Qatar mall fire that killed New Zealand triplets was an act of terrorism.
Government officials will look into allegations reported by Al Arabiya, which claims to have evidence the Doha mall fire, which killed 19 people, was deliberately started by people acting under the orders of the Syrian Government.
Prime Minister John Key said he had seen media reports but no evidence to indicate the fire was not accidental.
"Obviously we take these sort of reports seriously, and so I've asked my officials to go away and drill down, have a look and see if there's any merit to these reports," Mr Key said.
An investigation by officials in Qatar found the fire was the result of an electrical fault.
Two-year-old New Zealand triplets Lillie, Jackson and Willsher Weekes were among those killed in the fire.
Leon Goldsmith, a Middle East expert who spent seven years studying the area, told TV3 News Al Arabiya was "relatively professional but you'd have to read their stories with a certain grain of salt or at least be careful to cross-reference".
Al Jazeera, an independent broadcaster based in Doha, is not reporting the story.
TV3 quoted an Al Jazeera journalist as saying there was "a void of information from the government about the [mall] fire, so rumour and speculation abound".
- APNZ