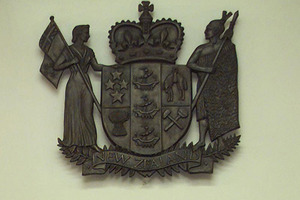 A Rotorua woman who made headlines after her assault on another woman was caught on camera has now been sentenced to community detention and ordered to pay reparation for breaking into a home and stealing electronic equipment.
Alexandria Gemini Ngarimu, 19, who is heavily pregnant, appeared in the Rotorua District Court yesterday for sentencing after previously pleading guilty to a charge each of burglary, intentional damage, possession of cannabis, disorderly behaviour and breaching supervision.
Judge Chris McGuire sentenced Ngarimu to six months' community detention and ordered her to pay $3014 reparation.
The judge said Ngarimu broke into a house by forcing open a bathroom window and stole a laptop containing a year's worth of study notes, three cameras and two iPods. Ngarimu left fingerprints on the bathroom window.
In relation to the disorderly behaviour charge, Ngarimu made a "jackass" of herself in the central city by swearing at and hitting her associate, Judge McGuire said.
After being refused entry into the Colonial Tavern at Te Ngae, as she had been trespassed, Ngarimu smashed a hole in a window of the bar.
Judge McGuire said Ngarimu had been receiving counselling for drug and alcohol issues but after being too disruptive in a group setting had to change to one-on-one counselling.
The burglary had caused a great deal of grief for the residents of the property as the laptop had a year's worth of study notes on it.
When Ngarimu was asked how she felt towards the victim of the burglary, she said: "I don't even know the guy, how can I feel anything for him?"
Judge McGuire said Ngarimu had been having complications with her pregnancy but told her that just because she was having a baby did not mean a judge would not send her to jail.
He hoped that having a child would provide a turning point for Ngarimu.
The judge cancelled Ngarimu's previous sentences of supervision and community work which were imposed earlier this year after she assaulted a woman at the Pukuatua St bus stop in January. The assault was caught on camera and attracted national media attention.
For more articles from this region, go to Rotorua Daily Post