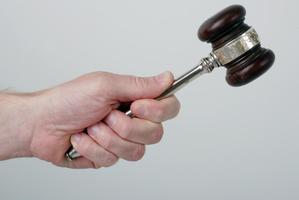 An immigration lawyer who helped entertainer Michael Barrymore gain residency has been charged with assault.
Richard James Martin, 48, appeared in the North Shore District Court last week on one count of assault against his ex-wife Claire Martin.
The Herald on Sunday understands the charge resulted from an argument between the pair that escalated at their family home in Greenhithe last month.
Richard Martin is accused of aggressively pushing and shoving Claire Martin. A police source said she received a cut to head. A temporary protection order was put in place.
Richard Martin helped TV host Barrymore migrate to New Zealand when his career crashed following the death of Stuart Lubbock at a party in Barrymore's home 10 years ago. Barrymore was cleared of blame and moved back to the UK in 2006.
Martin was struck off as a lawyer in 2009.
The Herald on Sunday was unable to contact either of the Martins.