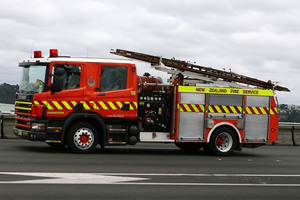 Police are investigating a suspicious house fire in eastern Christchurch last night.
Firefighters were called to the blaze on the corner of Soberton and Warblington streets, Aranui, about 7.23pm.
A Fire Service spokesperson said the earthquake-damaged was vacant, and has been "extensively damaged" in the fire.
Four trucks and 12 firefighters were called to the property, which was "well-involved" in fire on arrival.
Police believe the fire was deliberately lit.
Detective Dion Murray said police would like to hear from anyone who may have seen someone acting suspiciously near the corner of Soberton and Warblington Street yesterday afternoon or evening.
Meanwhile firefighters have been at the scene of a large fire at an industrial building in Paeroa this morning.
Fire Service spokesperson Scott Osmond said crews were called to blaze, at 10 Coronation St, about 4.46am.
The 40x20m building was "well ablaze" when crews arrived, he said.
Four fire trucks - from Paeroa, Te Aroha and Waihi - remain at the scene.
No one was inside the building at the time and there are no injuries.
- nzherald.co.nz