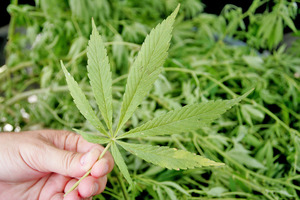 A Kilbirnie woman has pleaded guilty over cannabis and money laundering charges. Photo / File
A 68-year-old woman who police allege was part of a multi-million dollar drug syndicate has pleaded guilty to cannabis and money laundering charges.
Kilbirnie cleaner Sandra Jacqueline McMahon was arrested in June after a five month operation cracking down on what police say was a well-organised and sophisticated commercial drug syndicate which dealt in tens of thousands of dollars of cannabis every week.
McMahon, a slight woman with greying hair, stood silently in the dock of Wellington District Court this morning as defence lawyer Mike Antunovic entered guilty pleas to new representative charges of selling cannabis and money laundering.
She also pleaded guilty to five charges of possessing cannabis for supply.
Police agreed to withdraw one charge of cultivating cannabis and 10 other drugs and money laundering charges, which were replaced by the representative charges.
Judge Peter Hobbs remanded McMahon in custody until sentencing on November 16.
McMahon is alleged to have sold cannabis and laundered money from its proceeds over a seven year period between January 2005 and her arrest in June this year.
Police seized more than 13kg of cannabis and about $40,000 in cash at the end of a five month investigation dubbed Operation Foxy.
Four others were arrested as part of the operation, including McMahon's 48-year-old-son Craig McMahon.
Wellington organised crime manager Detective Inspector Darrin Thomson said at the time that Operation Foxy had severely impacted the cannabis supply chain in the Wellington region.
"This syndicate was responsible for millions of dollars worth of drugs flowing into our community and causing damage to many," he said.
Mr Thomson said the group had been operating for a number of years and built up millions of dollars in assets from the proceeds.
"We have been gathering evidence of the assets accumulated by this syndicate over a period of time and our asset recovery unit is in the process of restraining several million dollars worth of residential property and cash," he said in June.
- APNZ