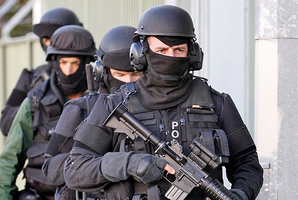 Armed Offenders Squad. Photo / File
A major police operation is under way in the Far North, where members of the Whangarei-based Armed Offenders Squad are scouring bush for an armed man.
The drama is thought to have started about 1.30pm yesterday when a police officer recognised the driver of a passing vehicle as a wanted man.
After a short pursuit the driver stopped on an unsealed rural road off State Highway 10 at Kaingaroa, about 15km northwest of Kaitaia.
As the officer went to open the driver's door, the wanted man jumped out of the passenger door and dived into the bush.
As he fled he grabbed what appeared to be a rifle from the passenger seat.
Police descended on Kaingaroa from around the Far North while a six-strong unit of specialist Armed Offenders Squad members flew up from Whangarei.
The Northland Electricity rescue helicopter carrying black-clad AOS officers and a tracking dog landed at Kaingaroa Memorial Hall about 2.30pm.
Police cordoned off Duncan Rd at both ends and Fisher-Riley Rd, and searched cars in the area in case the suspected gunman had hitched a ride.
An abandoned 4WD remained parked by the side of Duncan Rd yesterday afternoon.
The man is understood to be known to police and to live in the Kaingaroa area, an experienced hunter with good knowledge of the terrain and used to finding his way in the bush after dark.
Schoolchildren and locals returning from town were forced to wait at the cordons.
Builder Shane Hunt was returning home from an appointment in Kaitaia about 3pm when he found Duncan Rd blocked by a police car and an officer with a semi-automatic rifle.
Eight other people were waiting and, while all were keen to get home, the mood was still relaxed 90 minutes later. Neighbours who didn't see each other often were having a good catch-up, he said.
"It is a bit of an inconvenience. We all want to go home, start dinner and get the fire going.''
By 5.30pm the number of people and cars waiting at the hall had swollen to more than 20 and the road was guarded by three armed police officers. One driver had reacted angrily on being refused entry to Duncan Rd.
for more articles from this region, go to NORTHERN ADVOCATE