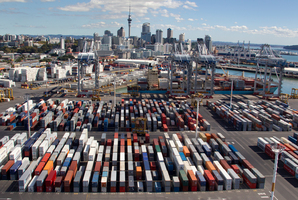 An architect with more than 40 years' experience has a vision to move Auckland's city centre port to a new location. British-born Martyn Evans, 73, is proposing a new port three times the size of the current one could be built and developed at Matingarahi Point on the Firth of Thames.
Mr Evans, who lives in the centre of Auckland, said: "Ports are growing all the time and so you need to be planning for expansion at all times.
"You need to be planning about 100 years ahead otherwise you are just going to run into the same problems time and time again.
"In my plans there is lots of room for growth and we need to be thinking years ahead if it's going to be a success.
"The port I have designed is three times bigger than the current one at Auckland harbour and that's accounting for growth. I don't have exact costings as yet but it would make much more sense to move the port out of the city centre and let the most be made of the waterfront which has so much potential."
If the port was moved the current port area could be transformed into an arts and music hub with a cruise liner terminal and a new iconic building similar to the Shard in London built by an international architect to act as a gateway into Auckland, Mr Evans said.
Mr Evans, who moved to New Zealand 30 years ago and helped design the port city of Ashdod in Israel, said: "We have so many options for Auckland's waterfront and we need to make the most of them now.
"It's the right time to make the waterfront in Auckland come alive.
"We could have a "Te Papa two" and a nautical museum, an international conference centre, a new cruise ship terminal for six ships, a harbour entrance with a large iconic building.
"I would love to see an artists' quarter with music venues developed with hotels, new homes and apartments, a performance theatre, commercial offices and a small container port.
"Green spaces and trees would also need to be incorporated so it would make a lovely family friendly area which would attract people of all ages."
Mr Evans has been working on his plans for the past five years and said there were many advantages to moving the port out to Matingarahi Point.
He said: "At the site I am proposing the water is already deep enough and there wouldn't have to [be] much dredging at all to make it deeper.
"The route that the ships would have to take would be much easier and the large ships would have no problem navigating their way in and out.
"Some ships trying to access Auckland Port are up to 400m long and it's challenging. If the current port was expanded it would make access for these larger ships very difficult.
"The road links from the proposed site are also very good and only 20km of road would need to be upgraded with a new 30km railway track put in to accommodate for the increase in traffic."
Mr Evans would like to see the new port built with a logistics park so all deliveries can be sorted out on site rather than transported out and sorted out at a different location.
At the moment most of the deliveries coming into Auckland Port are sent to South Auckland to be sorted and then they are distributed.
He said: "Nowadays most ports have a logistics park on site and a good example of this is the new super port being built just outside London in England.
"There are so many advantages to moving the port and it would mean we could show off the green side of New Zealand because it would be built with the environment in mind.
"The new port would have a green infrastructure with light controls, it would be surrounded by parks and green belt. Rail and road links would be barricaded and tunnelled and with the logistics park on site it would cut down extra traffic."
A PricewaterhouseCoopers report for the Auckland Council into the future of ports in the Upper North Island is due back in December.