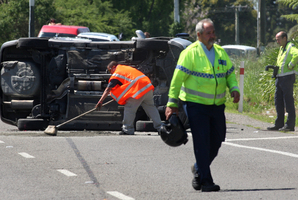 A woman whose careless driving was partly to blame for a fatal head-on crash that killed 38-year-old Te Puke father Shannon Rahiri has been fined $800.
Merle Josephine Chadwick, 68, was sentenced in Tauranga District Court yesterday after earlier pleading guilty to a charge of careless use of a motor vehicle causing death.
The maximum penalty for this charge is three months' prison or a $4500 fine.
The charge stemmed from a crash on State Highway 2 at Te Puke on October 30 last year. Chadwick had pulled out of her daughter's driveway into the path of Mr Rahiri's Harley-Davidson V-Rod motorbike.
The crash occurred between Waitangi and Maketu turnoff near the old Kiwifruit Country site.
Chadwick failed to see Mr Rahiri coming at speed despite the bike headlight being on.
Passersby gave CPR but he died at the scene.
Chadwick's car, which was carrying four passengers, was hit with such force it rolled on to its side.
A police serious crash investigator confirmed that Rahiri had braked and left a 75-metre tyre skid mark before colliding with the middle right side of Chadwick's vehicle.
His speed was estimated to be 125km/h, at least 25km/h above the posted speed limit.
Mr Rahiri was also wearing a special device attached to his helmet to detect police radars.
Chadwick's lawyer Ned Burke urged Judge Peter Rollo to impose a modest fine and find special reasons not to disqualify his client, who was standing in the dock for the first time in her life.
"Mrs Chadwick has had many sleepless nights since the accident and she deeply regrets what happened," he said.
Chadwick had not had the opportunity to extend her remorse and apologise to Mr Rahiri's family but intended doing so in person following sentencing.
In sentencing Chadwick, Judge Rollo said he must not only take into account the degree of her carelessness but also the actions of Mr Rahiri in partly contributing to the cause of the crash.
The judge said it was relevant that not only was Rahiri speeding on this day, but he was well known to police as a fast driver having received a number of traffic infringements for speeding.
He also took into account that Chadwick was appearing before the court for the first time.
"Of course the fine I am imposing is only a mere token when measured against the loss of a human life," he said.
Judge Rollo said in the circumstance he would not disqualify Chadwick, finding special reasons not to do so.
Mrs Chadwick declined to comment when contacted last night.
For more articles from this region, go to Bay of Plenty Times