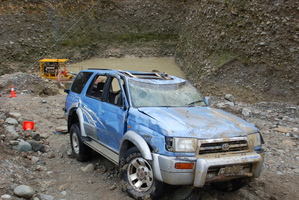 The Toyota Hilux in which Tayne Bowes drowned. Photo / Greymouth Star
A man whose son drowned when his ute rolled into a pond on the West Coast was suffering from a terminal brain tumour he did not know about at the time, a family friend says.
Mark Bowes has been in Christchurch Hospital since the incident that killed his 9-year-old son Tayne more than a month ago.
Mr Bowes ran 3km to call police after his vehicle rolled into the pond near Hokitika on August 12.
His 8-year-old daughter Keira was rescued from the submerged ute by police officers.
Police are yet to interview Mr Bowes or establish whether there is any criminal liability for his actions.
Family friend Barry Foster today revealed on RadioLive that Mr Bowes was diagnosed with a terminal malignant brain tumour after the incident.
He had undergone an operation to have the tumour removed and was due to start chemotherapy early next month.
Mr Foster said he believed "100 percent" the tumour had contributed to the incident and to Mr Bowes' actions afterwards.
Mr Foster was overseas when he heard the news but said he knew what had happened right away.
"I said, 'Something's happened to Mark. He's had a seizure, he's had a fit, he's passed out - something's gone wrong because that's not the sort of guy that he is.'"
Mr Bowes would have tried to save his son's life "in one instant" if he had not been suffering the tumour, Mr Foster said.
"He didn't even run in the right way ... he just ended up at a town, not at his house."
Mr Foster said Mr Bowes was suffering severe headaches in the week after the accident and could not remember what happened.
"That will come to him in time, but as I've said to Mark, 'You don't need to think about that.'"
Police said yesterday it was not known when Mr Bowes was expected to be well enough to be interviewed.
At the time of the incident, police said the siblings were in the vehicle with their father, who had gone to his worksite at an Adairs Rd goldmine to refuel a pump being used to drain a pit.
The vehicle plunged over a bank and landed upside down in the water.
The father scrambled out in the dark and ran about 3km for help.
Police officers who later arrived at the scene described the event as "bittersweet" for the family, finding one child alive and the other dead.
- APNZ