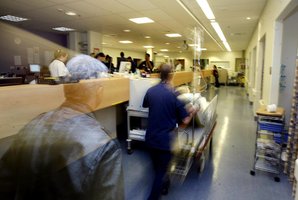 One of the world's biggest killers of hospital patients is still not well known among patients.
Venous thromboembolism (VTE) includes pulmonary embolism (PE), commonly found in people who have been in hospital or who have had surgery. It involves blood clots in the legs or pelvis and abdomen, which can break off and travel through a person's system and then block vital arteries in the lungs.
The condition has a 30 per cent mortality rate within a week and accounts for more deaths than cancer or strokes in people who are in hospital.
Doctor Neil Graham, who specialises in internal medicine at Tauranga Hospital, said no one knew about it. "It's said to be the most common cause of preventable death of patients in hospital but in New Zealand particularly, we are dragging the chain and we are behind in what should be a careful approach to treating these people ... preventing it from happening," he said.
After taking action following an audit in 2007/08, Tauranga Hospital is one of the country's leading hospitals in taking preventative VTE action. But efforts have been hampered by a lack of awareness from patients, Dr Graham said.
Dr Graham said there was a steep rise in the risks of VTE as people got older, which was pertinent in Tauranga because of the region's ageing population.
"If you're an older person who had a heart attack or stroke and then your chances are pretty high of getting a clot to your legs or lungs if you are a patient in hospital."
People who have had surgery to their abdomen, pelvic and leg area were also more prone to clots in the post-operative period.
"Sometimes people die when they go home. They have an operation and a week later they drop dead and often doctors don't hear about those people," Dr Graham said.
Simple measures to help prevent VTE involve gentle activity after surgery, keeping hydrated and taking medication to help thin the blood.
"There's a much greater risk of dying from VTE if you are a 65-year-old having major pelvic surgery than if you went to London on a plane," he said.
While data was not available for New Zealand, Australian statistics showed 60 per cent of cancer patients in hospital will get clots to the legs or lungs and about 50 per cent of stroke patients.
In 2008, there were 5285 deaths from VTE.
In the United Kingdom the rates were similar. Each year more than 25,000 people in England are thought to die from VTE contracted in hospital.
"What is happening in the UK and Australia in regard to prevention of VTE in patients is not happening as much in New Zealand," he said. "In Tauranga, we are a long way ahead of some other hospitals [in New Zealand]. A lot of hospitals have not done much."
Dr Graham advised people being admitted to hospital anywhere to ensure the VTE risks and prevention measures were explained to them.
- APNZ