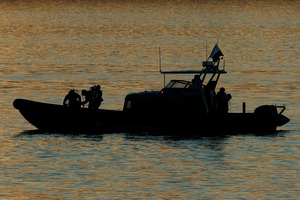 It will be decided this morning whether it is safe to send divers down to look at a fishing vessel believed to be a boat that disappeared off the Fiordland coast on Saturday with two people on board.
The skipper of the Governor, 60-year-old Kevin Cosgrove of Dobson and crewman Nirvana Drew Reynolds, 16, of Blackball, were last seen on Saturday about 11.30am.
They had told another boat their fishing net had become snagged north of the Milford South mouth near Yates Point.
Senior Sergeant Cynthia Fairley said police believed they had located the wreckage of the boat about 1.6km out from Yates Point, yesterday afternoon.
The boat was located after a diesel spill was spotted, she told Radio New Zealand today.
"It was seen at the diesel spill and then it was confirmed by helicopter observations and then we had the Amazon fishing vessel at the end of yesterday just confirming that.''
Last night the swell was about four metres and a front was expected to come through the region today.
It would be decided this morning whether divers could safely head out to the wreckage, Ms Fairley said.
It is the third fishing trip that has turned to disaster in the lower South Island this year. In January two died when a recreational boat carrying five people capsized in Foveaux Strait.
A month later only one person survived when a boat with nine members of an extended family on their annual mutton-birding trip capsized in the strait when a rogue wave hit them.
A Maritime NZ spokeswoman said preliminary inquiries were under way but it was too early to speculate on what might have gone wrong. It was a timely reminder for boaties to ensure they carried the right safety equipment, including two types of waterproof communication devices.
- APNZ