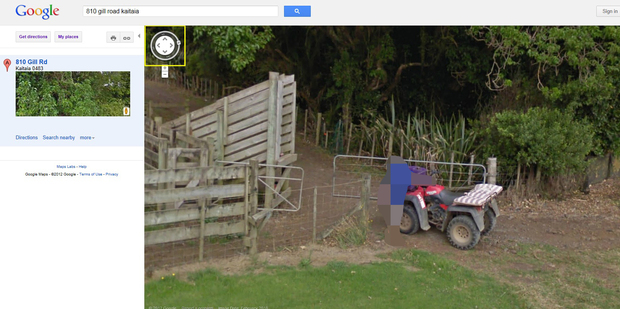 Police are interested in photos which may have identified a young victim of Kaitaia sexual predator James Parker.
The images appeared on Google Street View but were removed after the internet giant was alerted this week.
The pictures showed a boy of about 11 wearing a blue T-shirt, grey shorts and a cap beside a red quad bike at the entrance to Parker's lifestyle block. As the Google camera car passed in February 2010, the boy had looked directly at the camera.
Although Google had automatically blurred the boy's face and the motorbike's licence plate, he could still have been identified by people in the community, according to a mother of one of Parker's victims.
This week, the Herald on Sunday contacted Google and the images were blocked.
Parker is in custody awaiting sentencing after pleading guilty to sexually abusing 49 pupils and former pupils. The deputy principal at Pamapuria Primary School often had children stay for sleep-overs at his property.
Detective Senior Sergeant Kevin Burke said since Parker's offending came to light, 35 people had phoned a dedicated phone line - 0800 900 502.
Some callers were possible new victims, others were former colleagues, and some were people with general information.
Asked whether police would approach Google for an un-blurred version of the photo, he said police were "looking into it".
The mother of a victim viewed the Google Street View images before they were changed. "That looks like one of the boys," she said. "If it is him, it shouldn't be on there. I don't think his mum will like that."
Parker's 1920s three-bedroom home and 5ha property are now for sale with an asking price of $330,000, far below the capital value of $420,000. It is described as a "perfect little lifestyle property ideal for the whole family".
Also this week, Google blurred images of a schoolboy lying on the road in front of a car outside an Auckland school. Although an accident appeared to be unfolding, the scene was staged for a road safety exercise.
Google Street View of the Kaitaia address