Despite amendments, New Chum protection group will not compromise.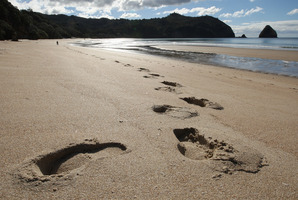 A group fighting to save an idyllic Coromandel beach will make a fresh push against plans to subdivide the area after developers scaled back their bid.
The pristine and secluded New Chum Beach was seen as under threat when land owners of Te Punga Punga Station at the rear of the beach announced plans to carve the area into a 20-lot subdivision.
This met a widespread public backlash - with celebrities such as actress Robyn Malcolm and reality TV star Phil Keoghan stepping in - and opposition from the group Preserve New Chum for Everyone.
The developers last week swapped their first application for a new one, cutting the number of lots to 12 and removing most of the lots closest to the beach, along with boathouses.
The Thames-Coromandel District Council is now considering a fresh call for public submissions.
David Lewis, a spokesman for the developers, told the Herald the process was one the plan needed to go through.
The landowners had always been looking to develop land on the Whangapoua side of the station, and there were "no plans at this stage with respect to New Chum".
Preserve New Chum for Everyone chairman and local iwi leader Grahame Christian said he hoped the lighter approach came with "an element of goodwill", as the group had asked the developers for public input multiple times.
He remained unhappy the landowners still planned to develop the area. "We are willing to sit around the table and it's time for them to sit with us so we can progress on terms that are agreeable. We cannot compromise on the development of New Chum and we are not going away."
The group will discuss how the beach can be protected at a meeting this month with Environment Minister Kate Wilkinson, Thames-Coromandel mayor Glenn Leach and Coromandel MP Scott Simpson, who saw the new proposal as a "constructive response" by the landowners to public concern.
Battle of the beach
Was planned: Twenty-lot subdivision on 333ha, with some houses visible from beach and located on beach drainage catchment.
Now Planned: Twelve-lot subdivision on 217ha, no houses visible from beach, none on drainage catchment, most lots now sited around nearby Whangapoua.