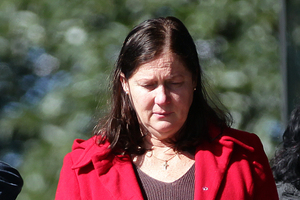 Alison Freemantle-Pilkington. Photo / Doug Sherring
A nurse who accused a neighbour of poisoning her horses has been found guilty of failing to provide sufficient feed for her animals.
Four of Alison Freemantle-Pilkington's horses - Ace, Star, Aaron and Benjamin - were uplifted from two of her large paddocks in Karaka in 2010. The SPCA had received complaints the horses looked sickly thin and riddled with infections.
Another three of her horses - Amos, Jasper and Sapphire - died a month before the SPCA intervened.
Freemantle-Pilkington was found guilty in the Manukau District Court last week of failing to alleviate unreasonable pain or distress to three horses; failing to provide three horses with proper and sufficient food; and two counts of ill treatment of two horses by failing to provide sufficient food and medical care.
The SPCA claimed the horses' pelvis and rib bones were protruding and their bodies were covered in skin infections.
Some of the horses also had severe diarrhoea, which was the result of worms and salmonella gastrointestinal infections.
But Freemantle-Pilkington claimed the horses, including a pregnant mare, had been poisoned. She said she'd found a bucket of "toxic substance" and possum poison under wood by her stables.
In court, she suggested the poison may have been planted by a woman who grazed horses on the property.
Judge Jonathan Moses dismissed her claims. Freemantle-Pilkington further claimed the horses had drunk water infected with salmonella by pukeko. That claim was also dismissed by the judge who dubbed it "speculation and remote".
The SPCA said Ace's condition was so terrible he had to be euthanased at the time of the uplift. Star, Aaron and Benjamin were put into the care of foster carer Alice Hayward.
Hayward, who calls the horses her "babies", let out a sigh of relief after hearing the guilty verdicts.
She said she hoped to adopt the horses if they were forfeited to the SPCA during sentencing.
"I was feeling sick in the courtroom just in case it went the wrong way but she has been found guilty so surely they can't give them back to her now," Hayward said.
Freemantle-Pilkington will be sentenced in the Manukau District Court on November 7. She could not be contacted for comment.