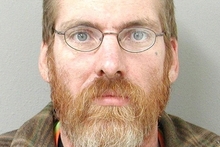 Police have released the name and photo of a man wanted in connection with an early morning firebombing attack on a Christchurch house.
He is Tony O'Riley, who may be using the name Frank Barnett.
Five people, including a 12-year-old girl, were asleep in the Hornby house when two Molotov cocktails were thrown through a window at about 12.10am on Tuesday.
The offender is believed to be a man in his 40s who had been stalking a 45-year-old woman boarding at the house. The woman said the man became enraged when he went to the property and found her new boyfriend's car parked outside.
Detective Damon Wells said Mr O'Riley is currently believed to be in the Ashburton area.
The photo released of Mr O'Riley is the most recent, although police say at last sighting he had a moustache but not a beard.
Police are no longer seeking the maroon Honda station wagon CPS612 that Mr O'Riley was believed to have been driving, as it has been located.
Any sightings of Mr O'Riley should be reported urgently to police on 111.
Detective Wells said although Mr O'Riley is not believed to pose any specific risk to the public, he should not be approached.
Anyone with information can also contact Detective Wells at the Christchurch South Police Station on (03) 3637859.
Alternatively, to provide information anonymously contact Crimestoppers on 0800 555 111.
By Samantha McPherson