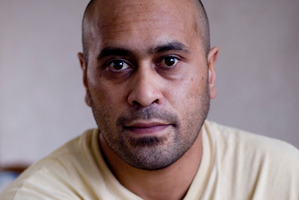 David Ilolahia. Photo / Dean Purcell
A man who went on a rampage when his Wendy's order came out wrong has been sentenced to 60 hours' community work.
David Junior Ilolahia, a furniture remover from Blockhouse Bay in Auckland, knocked over the till, flipped tables and attacked a police officer after finding his order at the Lynfield store had been botched.
He pleaded guilty to charges of resisting police, assaulting a constable, damaging a police shirt worth $50 and two charges of disorderly behaviour.
Judge David Wilson QC also ordered Ilolahia to undergo courses and counselling for violence and alcohol abuse.
Ilolahia will pay $50 to the New Zealand Police for the damaged police shirt.
According to the police summary of facts, Ilolahia made a "large order", totalling $52 at the drive through at the Lynfield Wendy's in January.
The manager went through the order with Ilolahia before Ilolahia drove off.
But he returned to the store a short time later and appeared to be "agitated".
According to police witnesses, he asked: "What are you going to do about my order? The burgers were wrong."
Ilolahia demanded his money back and began yelling abuse at the manager.
Police were called before the fearful staff locked themselves in the office.
A police sergeant arrived and found Ilolahia standing over a till that had been knocked to the ground. The police officer told him to calm down, saying "that was no way to behave in a family restaurant".
But Ilolahia continued to be threatening and was described as being "consumed by rage".
The sergeant tried to restrain him and emptied a can of pepper spray into Ilolahia's face.
The struggle lasted about 10 minutes and spilled out to the restaurant carpark, where five officers eventually subdued Ilolahia and arrested him.
Ilolahia has previously described the incident as a "communications breakdown kind of thing" that escalated.
- APNZ