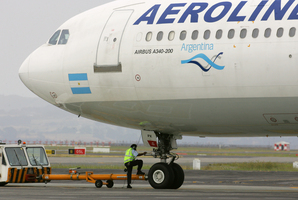 Argentina's largest airline has been fined $18,000 for failing to give immigration officials information about passengers on flights from Sydney to Auckland.
Aerolineas Argentinas pleaded guilty at Manukau District Court today to charges of failing to provide passenger details to Immigration New Zealand, allowing a passenger to travel without a visa and ignoring a directive issued by Immigration NZ not to board a passenger.
The charges related to two Chinese passengers and one Tongan who boarded flights in March and November last year.
The airline was fined $6000 for each charge.
The judgement sent a message to the industry about the consequences of not following passenger clearance process, said Immigration NZ general manager Peter Elms.
"This is a serious issue because there are significant risks involved in people entering New Zealand when they should not have been allowed to travel here."
Airlines must submit passenger information to Immigration NZ to help the agency identify risks about individuals before they enter the country.
- APNZ