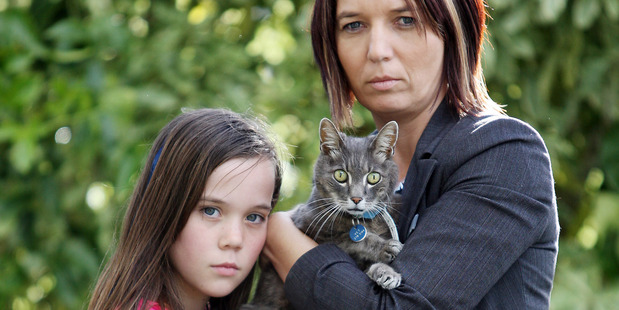 Jo Oxenham knew there was something seriously wrong with her ailing cat Maverick when she took him to the vet but was shocked to learn he was riddled with gun pellets.
An x-ray of the 16-year-old cat taken at Vet Care in Tauranga on Saturday showed at least two slug guns pellets and six BBs lodged in his body.
"I was nearly sick when I saw the x-rays," Mrs Oxenham said.
The vet told her that Maverick's liver and kidneys were failing and one lung had collapsed, meaning he would not survive, the Seaview Rd resident said.
"I will have to put him down. I've just got to get myself ready to do it."
She knew Maverick was not well when he stopped eating and began rapidly losing weight.
"If he's turning down fresh snapper there's something wrong."
The family noticed a small sore on the cat about three months ago and another one on his shoulder a couple of weeks later but assumed it was the result of a cat fight.
Mrs Oxenham took her cat to the vet last Monday and when there was no improvement he was taken for an x-ray on Saturday.
After the x-ray she was called into the examination room and told to prepare for the worst.
"I was expecting cancer or some lump or something. I was certainly not expecting bullet holes.
"I honestly felt sick."
Mrs Oxenham was shocked this could happen as she was always careful to lock her two cats inside overnight.
"It's not right that someone has taken the liberty of shooting him," she said. "It was a kick in the guts."
Maverick has been a part of the family ever since he was a kitten and even moved from Taranaki to Tauranga with Mrs Oxenham.
"We caught him as a stray kitten."
Old age could be playing a large part in Maverick's condition but having pieces of metal scattered throughout him was certainly not helping, Mrs Oxenham said.
"It could be purely coincidental that he's dropped down so quickly but the fact that there are still bullets in there is just horrific."
Veterinarians at Vet Care have been treating Maverick and are equally as horrified, vet nurse Megan Gardner said. "It's not a common thing that we see ... I've seen a cat that's had its foot shot before but he was just in the wrong place. This one seems to be a bit more deliberate. It's not something that we see every day."
For more articles from this region, go to Bay of Plenty Times