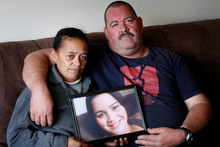 "You just try to take it one day at a time, but sometimes it can feel like you're living 10 years in each one of those days," Lesley Fenton said.
Her daughter, Hayley-Ann Fenton, took her own life three years ago when she was 15 after receiving bullying texts from her boyfriend's wife.
"Life was going good, but when you lose a child it's like a bullet going through your heart," Mrs Fenton said.
Hayley met Pelesasa Tiumalu while working with him at McDonald's in January 2009.
They began a sexual relationship, and Hayley and Tiumalu told her parents that he was only 20 instead of 27. Six months later, Tiumalu's separated wife, Elina Tiumalu, returned with their almost 2-year-old son, and Tiumalu told Hayley he would leave her.
Elina Tiumalu then sent messages to the teenager, repeatedly swearing at her and threatening to "smash your face" if Hayley texted her husband again.
Hayley later overdosed on her father's heart medication.
It saddened Mrs Fenton, of Rotorua, to hear about the significant rise in the number of suicides in the 15 to 19-year-old age group over the past year, especially because teenagers that age keep so much from their parents.
"We knew nothing about what Hayley was going through."
For anyone considering taking their own life, Mrs Fenton urged them to think about what that would mean for the ones that cared about them - to understand that their actions could drive family members to alcoholism and drugs or could tear apart a marriage.
"Just tell someone, tell someone what you're going through so they can help."
By Amelia Wade

Email

Amelia