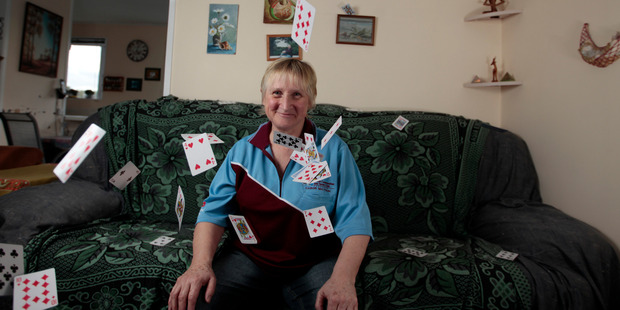 Stamina, nerves of steel and a strong competitive streak - Lesley Higham has these in spades. And diamonds, clubs and hearts.
Higham is the new Clubs New Zealand euchre champion. Last year she was the North Island 500 champ and is a previous North Island cribbage champ.
"I count myself a good player but it really depends on the cards," she said.
Higham, 59, started playing cards with her family 49 years ago when she was just 10.
She got hooked on 500 at lunchtimes at school and her former husband Gerry Higham taught her euchre. He is also a former 500 and euchre champ.
After honing her skills over several decades, Higham had a few tips for keen 500 players.
"Assess your hand properly," she said, "and don't be afraid to call or bid, especially if you have a long suit, a bower, or an ace.
"Keep an eye on the score."
Luck definitely came into it too, but so did skill and concentration.
Higham played for at least two hours, twice weekly. She said young people could do with putting down their iPhones and picking up a pack of playing cards.
"We've gone away from playing games at home with our kids. They're on their computers and their iPhones. I have nothing against that at all. I think that's great too, but they don't get to interact with their families or friends and play these games which are enjoyable, can help with your maths, and are social."