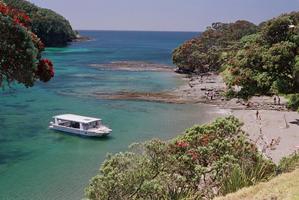 For the first time, Auckland residents will be able to see how their neighbourhood rates for quality of air, water and life in general. Catherine Masters checks out the details
Auckland stretches beyond Warkworth to the north and Waiuku to the south, encompasses 1800km of coastline and 60,000ha of native forest - the make-up of this huge supercity where more than a third of the country's population lives has altered with amalgamation.
"About 15 per cent of the new Auckland is urban, the rest is rural or forested," says Grant Barnes, manager of Auckland Council's research, investigations and monitoring unit.
"We're a predominantly green city now."
Barnes was speaking as the council moves to launch on Monday a series of online report cards on how well Auckland - the new, big Auckland - is doing, building on more than 30 years of monitoring data by the former councils.
You can look up your own area on www.aucklandcouncil.govt.nz/stateofauckland to see how people in your neighbourhood rank their quality of life and see the state of the land, air, waterways and sea.
Barnes explains that councils are required to report the state of their environment at least every five years and that the last big report was by the former Auckland Regional Council in 2010.
After amalgamation it was decided it would be more useful for Aucklanders if the information was packaged to neighbourhoods and updated every year.
These new report cards provide a snapshot of the state of play. Click on the Air Quality report card, for example, and you will discover in the quick facts section that there are around 300 premature deaths a year in Auckland due to air pollution and that the social cost from air pollution is estimated to be $1.07 billion every year, but, when compared to many other international cities, Auckland has relatively clean air.
You will also learn that in summer, transport is the biggest cause of air pollution but that in winter, home heating is the culprit. In winter, the amount of PM10, tiny solid and liquid particles n the air, is tripled.
Report cards are listed by type - air quality, demographic, freshwater, marine, quality of life and terrestrial - and also by local board.
So someone living in the Henderson Massey area, for example, can look up their Marine Report Card and find they have been awarded a C grade and that they get a D for their Terrestrial Report Card which is based on the amount of indigenous ecosystems, including forest, scrub, and freshwater and saltwater wetlands.
People in this area, along with most of the region, can only look enviously at the East Coast/Devonport reporting area which gets an A grade for its Marine Report Card. Barnes says, however, the grading system is just a guide for improvement.
Take the Auckland Isthmus which scores an E for its terrestrial score. Barnes says it is not realistic to suggest this area will one day get an A.
"What we're looking to advise on is what the potential for that system would be if you were to apply all the principles of sustainability.
"You could probably take an E to a D but it's not realistic to suggest urban Auckland going from an E to an A - that means removing people from the environment and, of course, that's not realistic and not something we are championing."
The purpose of the grading system is rather to focus attention on areas of high value so that they do not degrade, he says.
"Think of it in terms of protecting your best and then improving the rest."
With the Auckland Isthmus, for example, improvements to the stormwater and wastewater system over time will probably mean fewer wastewater overflows into the marine environment, which should reduce the amount of heavy metals making their way into the Waitemata Harbour, and the bathing/beach score should probably improve.
Though the report cards are not all good news, they help to raise awareness of environmental, social and economic factors in the place you live, says Barnes.
The council responds to the drivers and indicators which come out of programmes such as this.
"So, for instance, if you're seeing a fresh water environment that repeatedly scores low it gives an imperative for council working with communities to identify means of improving fresh water environments, so it provides the impetus for change."
The Puhinui Stream in Manukau is a good example of how the community can do its bit.
Volunteers have helped clear out all manner of junk from the stream, from fridges to shopping trolleys, and this shows what can happen when a community works in tandem with local government and non-government organisations on solving a complex problem.
The Puhinui Creek still turns up twice on the council's worst monitored sites list for freshwater ecology and Barnes admits there is much work to be done.
"It's a step in the right direction but the problems of Puhinui are symptomatic of urban streams throughout Auckland. There's a long way to go in turning those streams around."
Otaki Creek near Middlemore Hospital is bottom of the monitored list for freshwater quality and has some pretty appalling conditions but it's not entirely uncommon to find "urban detritus" thrown in streams.
This doesn't necessarily reflect the communities living around these streams, says Barnes, but is indicative of our urban lifestyles. Take another example - cars, he says.
"Cars' brakes utilise heavy metals that on wear are released on the roads and when it rains it gets picked up in the stormwater system and it ends up in the streams. Those sort of things.
"When it rains, on occasions the wastewater systems overflow and in those situations they are designed to overflow into the nearest streams."
One of the main ways to stop this is stopping contaminants getting into the streams in the first place.
He says a successful example of this is the banning of lead additives in fuel. When they were used there were also high concentrations of lead, both soluble and insoluble, in the streams and estuaries of Auckland. Now there is not.
People can do their bit for the place where they live, he says, by being aware of how easy it is to contribute to contaminating waterways.
"One is washing your car. You wash your car on your driveway, that water goes into the stormwater system and it will discharge to the nearest stream.
"The best advice is not to wash your car on the driveway but to do it on the lawn if you're able to.
"It's those sorts of things. Your house, your property, is connected via the stormwater systems to your local stream. What you pour on your driveway will go into a stream."
As yet there is no overall grading given for the new Auckland region as a whole. Barnes says they would like to develop one but this is fraught with technical challenges and there is a danger of oversimplification.
As a parochial Aucklander, he reckons we are definitely an A overall, but when all the grades and different intricacies of the region are taken into account, he concedes we are probably a B with plenty of room for improvement - but he says there is a clear plan of how to improve.
This is the council's Auckland Plan which is the strategy to make Auckland the world's most liveable city over the next 30 years.
Already, we have an amazing place to live, Barnes says, but we can't be complacent and we need to look after it.
"Within half an hour's drive of the CBD Aucklanders can immerse themselves in some pretty untouched, pristine environments. We are extraordinarily lucky as a city to be able to do that. Half an hour you're in the Waitakeres, in the Hunuas or you're swimming in Whangateau Harbour (Omaha) or catching snapper in the Waitemata.
"We're privileged in many respects that for a reasonably large city that we have such a great natural environment so close to us."
Check your neighbourhood
www.aucklandcouncil.govt.nz/stateofauckland (from Monday)
Best and worst Streams (water quality)
Cleanest: West Hoe Stream, Orewa
Dirtiest: Otaki Creek, Papatoetoe
Streams - plant/animal life
Best: Marawhara Stream, Piha
Worst: Pakuranga Creek
Sea and coastline
Best: Goat Island, Leigh
Worst equal: Mangere Bridge, Kaipara River Mouth
Park and reserve land
Best: Cascades Kauri Park, Waitakere Ranges
Worst: Western Springs
Based on Auckland Council-monitored sites