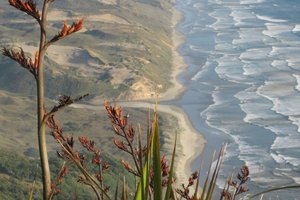 Ripiro Beach is known by Northland locals as an unforgiving place. Photo / APN
Dylan Robinson was young, bright and enthusiastic - he was loving his first year of college and being a teenager. But the 13-year-old didn't make it to class on Monday.
Dylan was swimming with a friend at Northland's notorious Ripiro Beach on Saturday afternoon when the pair were caught in a rip and swept out to sea.
Someone managed to save Dylan's friend, but it was too late for him. His body was found floating beyond the breakers an hour later.
The teenager's death has rocked the small West Auckland community he called home - but no one more than his mother, Bev, father Leon Fitzgerald and four younger brothers and sisters.
Principal Mark Shanahan of Waitakere College, where Dylan was a Year 9 student, said the boy was "lovely" and was just settling into school life.
"He was just growing into a teenager and all the opportunities and promises that offers, so for him not to be able to do that is very sad."
On Sunday news spread quickly around the Ranui and Swanson communities that it was Dylan who had drowned.
On Monday, his classmates all met with a councillor who spoke to them about loss. It's understood the friend he was swimming with went to another school.
Everyone in his homeroom, a number of the school's staff including Mr Shanahan and a group from Swanson Primary, Dylan's old school which his siblings attend, will be at his funeral today.
"It's a very hard time for his Mum and Dad, it's just terrible ... we want to know they're supported," Mr Shanahan said.
After he heard about Dylan's death, Mr Shanahan rang Ms Robinson, who was "just devastated".
Ripiro Beach is known by West Coast locals as an unforgiving place.
Dylan's drowning is at least the second in Northland this year.
At least six people have drowned at the beach since 1980, including two within days of each other in 2006. And Welsh boogie-boarder Jeremy Phillips, 38, drowned at Maunganui Bluff in 2003.