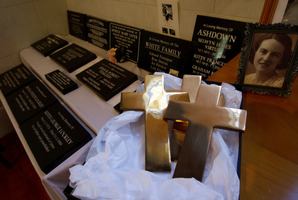 Families yesterday dedicated new memorials to their loved ones after a spate of burglaries of brass plaques at the country's largest public burial ground, Waikumete Cemetery.
Thirteen plaques, with a scrap metal value of only a couple of hundred dollars, were ripped off headstones in October. But while police recovered them after being tipped off by a dealer, they were not in good enough condition to be reattached.
Avondale police organised a group of local businesses to restore the gravesites with new engravings.
Yesterday, about 60 family members, with constables Jodi Browne and Adrian Heffernan, met inside Waikumete's Chapel of Faith in the Oaks for a service to mark the restoration.
Graham Belfield, 75, travelled from Whangarei with sister Elaine and wife Norma. Their grandmother, Margaret Hill, died in 1945 aged 71. He remembered a kindly old soul.
"I was 9. She was lovely and absolutely beautiful. My mother would have been absolutely devastated at that [damage], she was so close to her mum. It made me so angry - today, though, it's brilliant."
Craig Ashdown was there to remember his uncle Graham, who died at 55 eight years ago. They were close and he fought back tears when saying how much the service meant to him.
Waikumete covers 108ha and since 1908 has served as the region's main cemetery. General manager Daniel Sales said police had gone above and beyond, not only to prosecute the case but also to bring some comfort to families who received a recast cross made out of the damaged metal.
"We were mortified when we found out what had happened. We weren't aware. We cover [108ha] and to police it ourselves is really difficult - some of the areas are really difficult to get into.
"These are records of people's lives, that family members have taken the time to say what they meant to them. There was no thought here for the families and that's what made it so hard."
In July Kieron Richard Officer, 49, of New Lynn, pleaded guilty in the Auckland District Court to receiving and selling the stolen plaques. He was sentenced to a year of supervision and five months of community detention.
Neil Joseph Anderson, 46, is still to appear before the courts.