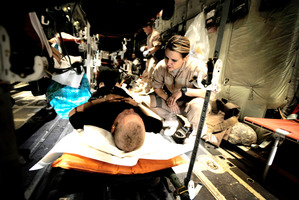 A US medic has recounted a dash to help gravely wounded Kiwi soldiers after a firefight which killed two of their comrades in Afghanistan.
Lance Corporal Pralli Durrer and Lance Corporal Rory Malone, both 26, were killed and six other soldiers were injured when their patrol went to the aid of ambushed Afghan police in Bamiyan province.
Captain Esma Etan, a US medic, was charged with treating five of the wounded soldiers as they were flown to receive advanced medical care in Germany.
The soldiers had gone through field surgery for injuries to their chests, heads, hips, faces and extremities.
Despite that, they needed reassurance more than medical help, Cpt Etan told the US Air Force.
"They were afraid.
"What we excelled at as a crew was the additional time that we devoted to listening to the patients' concerns and then realising they were afraid.
"It was not that patients were in pain, but that they were unsure as to what had happened from a medical standpoint and what would happen to them when they arrived in Germany."
Cpt Etan said one Kiwi soldier reached out to her for help while she was making her rounds.
"I walked over to him, bent down to his level and tried to understand what he was trying to say. To my surprise he was just trying to understanding what had happened to him."
She spent 15 minutes explaining the treatment he had received and what would be done to determine whether he would need surgery.
"This mission was not so much about performing heroic acts of life-saving measures, but more so about the human heart and spirit," Etan said.
"Sometimes what we need most is a compassionate voice and a comforting hand to get us through that rough journey."
Cpt Etan was commended by her commanders for the comfort she gave to the wounded New Zealand soldiers.
New Zealand Air Force chief Air Vice-Marshal Peter Stockwell issued a note of thanks for her actions.
"The commitment and responsiveness of the US military has been exemplary and been a great demonstration of the strength of the relationship. So thank you most sincerely," he said.
- Herald Online