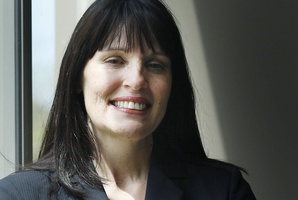 Hamilton's mayor Julie Hardaker. Photo / File
Hamilton City Council has been removed from the Government's watch of naughty councils.
Close monitoring of the city council's processes from a succession of Local Government Ministers has ended with the present minister, David Carter, confirming that he is pleased with its progress in addressing harsh criticisms about flawed processes raised in last year's Audit New Zealand report into the V8s.
Mr Carter, in a brief letter to Hamilton Mayor Julie Hardaker, said he saw no reason to receive updates from the council.
Rodney Hide, when he was minister, put the council on watch in November last year in response to public calls for the elected politicians to be sacked after the report criticised the council for poor reporting, spending millions of dollars without authorisation and keeping councillors in the dark over significant issues.
But Mayor Hardaker said Mr Carter told her during a phone conversation that he had no longer had any issues or concerns with the council.
"I think the minster's confidence in us indicates he's confident of the leadership of the council and the chief executive. He's confident that any concerns that have previously been raised have been addressed, and there's an ongoing process to continue this improvement," she said.
"I think that's an excellent result and I think the city should be very proud of that. Issues have been raised and they've been addressed promptly, and we now have the confidence of the Local Government Minister and the ministry."
The council agreed last week to disband a governance working group set up at the end of last year to oversee more than 27 changes, including engaging an external financial adviser, reducing the number of confidential meetings held and setting up a register of conflicts of pecuniary interests, because the work had been completed.
The newly formed risk and audit committee will now pick up and monitor any further issues to be addressed.
Among these are Ms Hardaker's earlier concerns that recommendations made in Audit New Zealand's reports to the council had been ignored.
Last month, former Hamilton mayor David Braithwaite wrote to the Auditor-General to inquire into the conduct of 10 councillors for failing to reclaim losses on the V8s event, which cost the city $40 million.