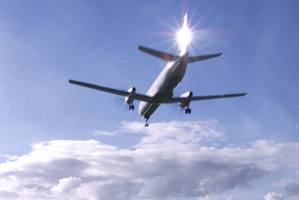 An urgent search is being made for a new international carrier to fly from Hamilton Airport to stop it losing its international status after a fourth airline pulled out.
Virgin Australia, which formerly operated in New Zealand as Pacific Blue, is cancelling its Hamilton to Brisbane service from October 27.
Virgin Australia New Zealand executive general manager Mark Pitt said demand for the service had decreased, and it was losing money.
Analysis by the airline showed improved road access to Auckland and the downturn in the local economy contributed to the poor performance of the route, he said.
But Hamilton City Council politicians - whose council has a 50 per cent stake in the airport - are calling on the airport to look for a new airline.
Councillor Ewan Wilson, founder of the airport's first international carrier, Kiwi Air, said the airport could lose its international status for good if a new carrier was not found before Virgin Australia left.
The airport was embroiled in a legal battle in 2009 to get Customs and the Ministry of Agriculture and Forestry's services reinstated when Air New Zealand scrapped its international service. Virgin Australia did not start flying the route until five months later.
A Customs Service representative said the service learned of the airline's decision only yesterday afternoon and wanted to understand the implications for the service and staff before commenting.
Hamilton deputy mayor and former airport board member Gordon Chesterman said having no international carrier would affect revenue from carparking as well as the duty-free business.
"With Virgin pulling out this will send a signal to other carriers that Hamilton is a highly risky business.
"Yet the truth is that 20 per cent of all people flying out of the Waikato and Bay of Plenty have flown to Australia from Hamilton and that 80 per cent continue to fly from Auckland."
House of Travel commercial director Brent Thomas said the biggest barrier for Hamilton Airport was frequency of flights and cost.
"Because of the competition out of Auckland - obviously the gateway to New Zealand - that competition drives pricing. Unless you've got something quite unique to offer people it does come down to critical mass."
Virgin Australia will be contacting passengers booked on services from or to Hamilton after October 27 to discuss alternative travel arrangements.
Hamilton Airport chief executive Chris Doak was confident the airport would still be able to remain profitable.
The airport board will meet its five shareholding councils - Hamilton City Council, Otorohanga District Council, Matamata-Piako District Council, Waikato District Council and Waipa District Council - today to brief them on Virgin's departure.