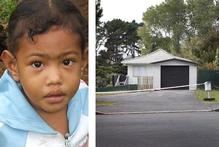 A man accused of throwing his daughter against a wall and stomping on her tried to use a fork to open the 2-year-old's mouth as she had a seizure, a court has been told.
Kefu Ikamanu denies murdering his daughter Seini, causing grievous bodily harm by grabbing and breaking her shoulder, and injuring with intent to injure by stomping on her pelvis and shattering it.
Ikamanu's wife Sela Taufu told the High Court at Auckland today that Ikamanu called her at work in March 2010 and told her to come home because Seini was having a seizure.
Crown prosecutor Tiffany Robertson took Mrs Taufu through photos of the Ikamanu house taken by police.
She asked Mrs Taufu about a fork found in the kitchen sink.
"I asked him why her mouth was bleeding and he said her teeth got tightened and he put a fork between her teeth and broke one of her teeth," Mrs Taufu said.
She said her daughter was missing a tooth and was bleeding from the mouth.
Photos of a hairclip, hairband and earring on the floor of the living room were also shown to the court.
The Crown says Ikamanu was angry and frustrated with Seini's behaviour which he described as spoilt, and that he threw her against the wall of the living room.
Ikamanu's lawyers say their client did not have murderous intent, and is the only person who knows what happened.
Seini was rushed to Starship Hospital, where doctors found bleeding on her brain.
Eight months later, following surgery, Seini died in hospital.
In his opening yesterday, Crown prosecutor Phil Hamlin said Ikamanu changed his story when speaking to authorities in the days following Seini's admission to hospital.
Mr Hamlin said Ikamanu told one police officer that Seini and her brother had been playing outside when Seini fell down the steps.
"And - to use my words - out of the blue, Seini began to have seizures."
Ikamanu later told another police officer a different story.
"He told the police officer that he threw the child against a wall in the lounge room of the house."
A short time later he told the officer that he had been holding the girl's hand and they had both let go and she had fallen against the wall.
Ikamanu's lawyer Simon Lance said much of Mr Hamlin's opening address was "Crown theory" and not evidence.
He said an example of this was evidence about bruising found on Seini's chest.
"What we know is that Mr Ikamanu attempted CPR. Doctors will say the bruising on the chest is consistent with someone attempting CPR."
He said Ikamanu was there on the night - not Mr Hamlin.
"Not all deaths are a murder, and this is one of the cases where it is not."
Timeline of events, according to the Crown
April 14, 2007: Seini is born
September 2007: Seini moves to Tonga to stay with her grandparents
July 29, 2008: Seini's brother Manamoui is born
January 29, 2010: Seini returns to New Zealand to live with her parents
March 22 and 23, 2010: Seini's mother notices her daughter has bruises on her face, a red eye and bruises on her back
March 24, 2010: Seini is taken to hospital with fatal head injuries, a broken shoulder and shattered pelvis
November 30, 2010: Seini has neurosurgery
December 6, 2010: Seini dies in Starship Hospital
By Edward Gay @edwardgay

Email

Edward