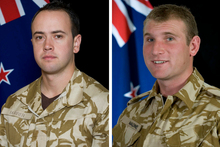 Details of the wounds suffered by six New Zealand Defence Force servicemen in Afghanistan on Saturday has been released by the Chief of Defence Force, Lieutenant General Rhys Jones.
The six wounded soldiers were initially treated in Afghanistan - five were then moved to Landstuhl Regional Military Centre in Germany for further treatment.
The sixth soldier sustained serious gunshot wounds to the abdomen and is still in Afghanistan receiving medical treatment.
Mr Jones said his condition, while serious had been described as stable.
"A German surgical team is caring for him at Mazar i Sharif Medical Treatment Facility with the possibility of transferring him to the hospital at Bagram Air Base and then on to LRMC in Germany. He is conscious, alert and in good spirits.
Mr Jones said one of the five soldiers in Germany had chest surgery at Hombury University Hospital and will be transferred back to Landstuhl Hospital soon.
Another will have surgery today to repair a fractured femur; while one soldier is mobile on crutches but still in the hospital ward. Two soldiers who each received shrapnel wounds have already been discharged from the hospital and are in accommodation on base.
Recent information from the NZ Provincial Reconstruction Team in Afghanistan confirms that none of the wounded servicemen were shot in the neck.
Mr Jones said no further information will be released as the personnel are entitled to privacy.
Bodies of fallen soldiers returning home
Meanwhile, the bodies of the two soldiers killed in the attack are on their way back to New Zealand.
Lance Corporal Pralli Durrer and Lance Corporal Rory Malone, both 26, were killed when their patrols went to the aid of ambushed Afghan police in Bamiyan province on Saturday night (NZT).
A ramp ceremony - where the caskets of the killed men are embarked and disembarked from a military aircraft - was held on Monday at Bagram Air Base in Afghanistan as their comrades farewelled them with a haka.
The bodies of the two men are now being escorted by fellow members of the New Zealand Provincial Reconstruction Team on a United States Air Force C-17 to New Zealand.
Lieutenant Colonel Pete Hall said it was a moving ceremony attended by many International Security Assistance Force nations and heavily supported and attended by US personnel.
"I received many sincere expressions of support from all nations as they expressed their sadness at the loss of Pralli and Rory.
"The ramp ceremony provided a solemn send-off to our mates and we remembered that they had fought courageously and acted bravely,'' he said.
The two men's bodies are due to land in New Zealand late tomorrow.
Corporal Durrer and Corporal Malone were both about half-way through their deployment with the Provincial Reconstruction Team (PRT) in Afghanistan when they were killed.
Corporal Durrer was from Christchurch and joined the army in June 2004. Corporal Malone was from Auckland and joined the army in 2002.
At the time of the attack New Zealand forces were helping the Afghan Special Police who had been ambushed as they went to arrest a bomb-maker.
Four New Zealand teams were deployed to the site, in the northeast of the Bamiyan, south of the township of Do Abe.
Soon after midday the New Zealand forces moved to higher ground to provide protection for the Afghan police who would start evaluating the operation.
But the troops moving in that area came under attack and both men were killed within the first three minutes of the attack, Chief of Defence Force Lieutenant General Rhys Jones said.
Corporal Malone was shot as he was going to assist a company commander who had been injured, General Jones said.
He was killed instantly.
Corporal Durrer was a crew commander of a light armoured vehicle and was also shot. He died during the evacuation.
- APNZ