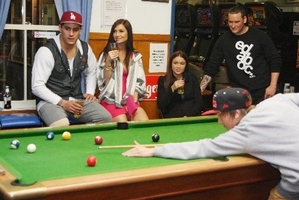 Stories making headlines across New Zealand at Noon include a brawl outside a gathering of "The GC" stars, mysterious vapor trails in the West Coast skies and the armed defence of a vegetable patch.

The infamous TV series 'The GC' has attracted controversy around the country but until now it hadn't led to any arrests.
There's apparently no chem trail conspiracy over on the West Coast with experts reassuring the good folk of Hokitika that mysterious lines in the sky are normal vapour trails.
A Moerewa man got more than he bargained for when he took to arms to defend his vegetable patch.
Popeye uses spinach for his strength but Olympic rower Mahe Drysdale seems to prefer gluten-free, organic carrot cake.
Whangarei Primary School was set abuzz with excitement when an Olympic hero known as "the Flying Dutchman" rolled in. How much Olympics are you watching?
In Hamilton they are creating a Shark attack.
Meanwhile large New Zealand fur seals are popping up all over Tauranga.
Janet Hartell probably didn't expect the reaction she got overnight to a post on the Wanganui Chronicle's Facebook page thanking a stranger for a good deed.
Possibilities for the Hawke's Bay Mission Concert this year don't include Bob Dylan.
Within just 10 days of opening for business in the Napier CBD, telecommunication store 2degrees Mobile has been smashed into twice.
Twenty five years of wins have revealed the luckiest Lotto spots in Wairarapa.
The biggest question on most Tinwald people's lips is - "did you get one?"
Dunedin is living up to its unenviable reputation as one of the worst areas in the country for urban intersection crashes.
Road spikes ended this 18-year-old Dunedin man's joy ride. Meanwhile Otago University Students' Association president Logan Edgar has appealed for more student bars.
It is the last roll of the dice for the tiny Jacobs River School.
Top trending topics on Twitter in NZ at Noon included: #20PeopleWhoIWantToMeet, #CharterSchoolRoleModels, #gold, Nathan Cohen, West of Memphis, New Zealand, Kiwi, Argentina, Pacific Fibre, #ICantBeInARelationshipWithYouIf