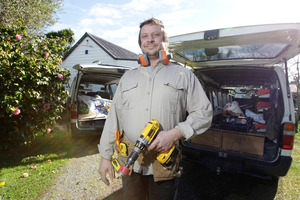 Sales of flat-pack furniture are increasing in New Zealand, but research shows that more than a third of buyers struggle to assemble it.
In an online poll of 2500 Kiwis, the Canstar Blue furniture retailers satisfaction survey shows that 36 per cent have trouble putting kitsets together, with men faring only slightly better than women.
Aucklanders are the worst in the country with DIY furniture, with 39 per cent having trouble.
Dunedin people came out top - only 20 per cent report having difficulty.
"The New Zealand market is increasingly selling furniture that requires assembly," Canstar New Zealand boss Derek Bonnar says. "Instructions range from easy to follow to quite difficult, meaning that easy assembly is a bit of a relative term.
"As the son of a builder I'm lucky to have picked up a few skills over the years from my dad. But I can understand that for those people who don't know the difference between a flat-head and a Phillips screwdriver, putting together that newly purchased table or bookcase could be a bit daunting."
Mark Warner, a tradie with Auckland Handyman Services, says he is often called to assemble flat-pack furniture.
"People tend to phone me when they've lost the plot trying to put the stuff together in the house and are approaching a murderous rage," Warner says.
"Metrosexual Auckland males and solo mums are the worst offenders."
Warner believes the biggest mistake people make is not following the instructions. "Most folk start off using the manual, then put it to the side and improvise as they go along, which usually leads to trouble.
"I have seen even the most simple of shelving units turn people into raving nutcases when they are trying to put them up.
"Before you do anything, all the pieces should first be laid out on the floor so you can become familiar with them, and always start reading the instructions from the beginning, not when you are halfway through assembling the item."
Warner also warns against buying cheap self-assembly furniture then paying for someone possibly more than the furniture cost to put it together.
Nevertheless, Kiwis are keen for more of flat-pack furniture. Almost 11,000 people have voted on a dedicated Facebook page that calls for Swedish self-assembly giant Ikea to open stores in New Zealand.