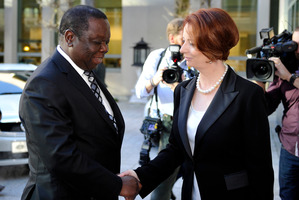 Prime Minister John Key says he is open to reviewing New Zealand's sanctions on Zimbabwe during the visit of Prime Minister Morgan Tsvangirai this week.
New Zealand imposed financial and travel sanctions on Zimbabwe in 2002 to protest serious human rights abuses under the reign of President Robert Mugabe.
However, Mr Key has indicated New Zealand could be ready to consider easing those sanctions, saying he would discuss it with Mr Tsvangirai when the pair meet on Wednesday.
"We will have some discussions with him to find out whether he believes the sanctions are still applicable."
He said it was unlikely there would be an announcement after his meeting but New Zealand would then consider its position.
"But I think we will take that away and see if we've got the right settings. We are incredibly hopeful that we will see reform."
He said in his view, sanctions were often "spectacularly unsuccessful."
"And if it really is holding back genuine development, that is something we might look at. But it is very early days."
He said Mr Tsvangirai had been pushing for reform in Zimbabwe and New Zealand's Government wanted to know what the best way forward was and how to eliminate human rights abuses in Zimbabwe.
Mr Tsvangirai was a key democracy advocate in Zimbabwean politics and his MDC-T Party entered a coalition government with the Robert Mugabe-led Zanu-PF following a controversial election in 2008.
Australia's Government has made similar remarks - Mr Tsvangirai is currently in that country and Australia's Trade Minister Craig Emerson said it was open to reviewing sanctions if Mr Tsvangirai believed that would send the right messages for reform in Zimbabwe.
Mr Key said although there was criticism of Mr Tsvangirai for entering a coalition agreement with Mugabe, "he's arguably better at the table and hopefully he's having some influence."
He said New Zealand usually moved with other countries when making its own decisions on such matters, although it was not bound to.
Mr Tsvangirai's visit is the first by a member of the Zimbabwe government in more than a decade.