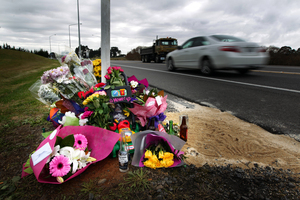 Hundreds of mourners are expected at today's funeral of a young woman killed in an area hit by several tragedies this year.
Courtney Jane Mower, 18, was hit by a car on a rural stretch of Great South Rd near her home in Pakakura, south of Auckland, on Wednesday night.
It was understood she'd had a disagreement with her boyfriend before she got out of the car and sat on the road in protest.
He tried desperately to get her off the road, at the spot where the 100km/h limit kicks in, but she was hit by a car in the darkness. He then tried to resuscitate her.
Diocesan School for Girls deputy principal Margaret van Meeuwen said Mower had enjoyed her time at the school and left in Year 12 to pursue training in hospitality and tourism.
Counties Manukau police spokeswoman Ana-Mari Gates-Bowey said the Serious Crash Unit attended the scene and spoke to a number of witnesses.
Mower's death is the fifth to rock the South Auckland community in recent weeks.
Earlier this month, Ashley Foley, 19, Alan Jones, 18, and Liam Jackson, 18, were killed driving home from Hamilton.
The latter two were friends of Mower.
Last weekend, Viliamu Tavalea, 31, collapsed and died during a rugby game.
Next week also marks the anniversary of the death of Jacinta Waipouri, 19, who was hit by a car after an argument on the Whitford-Maraetai Rd, also in South Auckland.
Waipouri walked on to the road after an argument with her boyfriend and sat down. Her friend, Helen Dando, went to comfort her and both women were struck by a car.
Dando survived with a broken leg, arm, hand and nose.