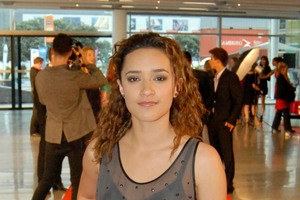 Oscar nominated actress Keisha Castle-Hughes yesterday settled an acrimonious rental dispute by phone after she left a Tenancy Tribunal hearing upset.
The 22-year-old leased Roger McCracken's $1.4 million Mt Eden home with her friend Michael Graves for a year before moving out in November. Mr McCracken asked the tribunal for more than $5000, claiming damage to carpet throughout the house, fixtures and storage costs.
Early in the hearing adjudicator Amanda Elliott called for a 10 minute break after Castle-Hughes yelled "I go through f***ing hell", when told the matter would be reported.
Castle-Hughes did not comment as she left proceedings just over half an hour into the hearing. But shortly after she tweeted: "Times like these I hate being from this f*** ing hick town of a country".
She did not return, leaving Mr Graves to deal with the issue. It was the third hearing date for the parties this year. The pair argued over the state of carpet for more than an hour before the adjudicator asked Mr Graves if he and Castle-Hughes would consent to forgoing their bond to settle the issue.
She said it was also her job to add a "reality check" to Mr McCracken's claim for storage which he estimated at $150 a week.
"Your co-tenant has found this very distressing. She has indicated she wants this over and done with," Ms Elliot said.
Mr Graves left the room to call Castle-Hughes and returned to tell the tribunal that the pair agreed to forgoing their $2550 bond.
Ms Elliott said the "full and final" tribunal order was that the bond would be retained by the landlord and Mr McCracken would not have to pay a $250 fine for failing to lodge the financial security.
Mr Graves said the saga had been hard on Castle-Hughes.
That Mr McCracken had not filed the bond spoke volumes about what kind of landlord he was, he said.
"His excuse was, he didn't know ... going into a tenancy agreement as a landlord, how do you not know? Everyone knows you've got to lodge it, don't plead ignorance."
Mr McCracken said he'd never rented out a property before which was partly why he hadn't lodged the bond with the tribunal. He claimed Mr Graves had agreed.
Mr McCracken said: "People have got to understand, she's a movie actress, what she did [leaving] was just theatrics."
Mr McCracken said he was pleased with the outcome. "It's done a very important thing. I think it's put them firmly in their place."