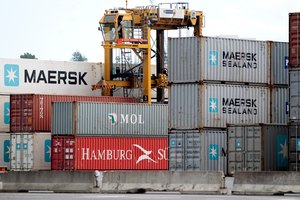 Staff at Timaru's port have been left shellshocked at the possibility of up to 50 jobs being cut after major shipping lines announced they will stop container shipping work at the port in two months, a transport union says.
The Rail Transport and Maritime Union's South Island organiser, John Kerr, told APNZ the port manager told staff this morning of the decision by Maersk and Hamburg Sud.
From September 17 the service will steam direct from Otago to Napier.
Mr Kerr said about 90 per cent of the port's staff work related to the container shipping.
"We've not had a firm proposal around restructuring or redundancies at this stage but the branch executive will be meeting with the executive on Thursday.''
Union members will be meeting next Monday.
Mr Kerr said the workers have not been told why the shipping lines made the decision to stop coming to the port.
He said the high competition between the country's ports mean that shipping companies do tend to move their business around.
"Someone clicks on a mouse in Copenhagen and working families in Timaru lose their breadwinners' job.''
He said the move would have a large impact on the community.
"The local council's a shareholder, so it will have an impact on their bottom line in terms of the ratepayers. You've got the people employed at the port who could potentially lose their jobs and then you've got the flow on affects to other jobs downstream.''
Mr Kerr said the workers were shocked by the news.
"They're not daft - they know this is how big business behaves, but nonetheless it doesn't make it any less of a shock when it comes because now it's real and it could have an impact on their families.
"It's not a good day for working people in New Zealand.''
PrimePort's chief executive Jeremy Boys said he was disappointed with the shipping companies' decision.
But he said the move would not impede on the port's direction as a Breakbulk Port and he said that it now had a greater potential to develop opportunities.
"It is our staff and many service providers who will bear the real brunt of this announcement,'' he said.
"They have shown great loyalty and flexibility particularly in the last three years when we have had to adapt to continuous realignments by the shipping industry.''
Mr Boys said many of the 55 permanent and 30 casual staff would be impacted, but he expected it would be several weeks before a consultation plan was put forward.
"We also acknowledge the impact it will have on many exporters in the region, whose path to America and Europe will certainly not be as direct.''
Mr Boys said PrimePort would now focus on supporting staff and many local exporters through the transition over the next two months.
- APNZ