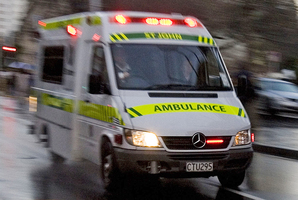 A pedestrian has life threatening injuries after being hit by a train in Mt Eden. Photo / File photo
A man hit by a passenger train in Mt Eden this morning is believed to have been listening to an iPod and ignoring the barrier arms.
The man is in an induced coma at Auckland Hospital after he was struck on the Porters Ave level crossing at 8.50am.
Senior Sergeant Junior Abraham said two trains were going past at the time, a westbound freight train and a citybound passenger service.
"The pedestrian thought once the freight train had driven past it was okay to cross, but unfortunately there was also a passenger train heading into the city."
The barriers were down and warning bells were sounding at the time.
The train driver saw the man and slammed on the brakes and sounded the horn "but unfortunately struck the pedestrian," Mr Abraham said.
"I believe he was wearing headphones, listening to an iPod so he wouldn't have heard the second train."
The man was knocked to the side of the tracks.
"He was flying through the air," said Mr Abraham.
The man was initially conscious but his condition deteriorated.
Train passengers were put onto buses to complete their journeys but it was expected train services would resume soon.
A spokeswoman for Veolia Transport, which operates the passenger rail network on behalf of Auckland Transport, said it was asked to close the line between Kingsland and Newmarket at the request of emergency services about 8.50am.
The company would not comment on the incident that caused the closure.
- APNZ