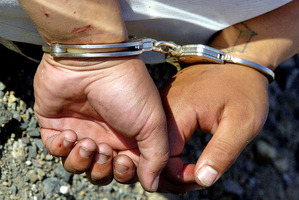 A months-long investigation originating in Italy spread to Waikato before ending in Christchurch as detectives swooped on a man suspected of peddling images of child abuse.
The man, a 37-year-old from Te Awamutu, appeared in Hamilton District Court on dozens of charges after his arrest in Christchurch last month living under an assumed name.
Two of the charges involve indecent acts on a boy under the age of 12 and several others relate to "very young" children.
The man appeared via audio visual link at court yesterday, several months after Italian authorities began an inquiry into the use of the internet for obtaining and distributing child pornography.
The Italians released several images of children involved in the abuse, which led a sharp-eyed Waikato detective to believe one of them looked like a boy from New Zealand. This then led to the identification of a Te Awamutu man as a main suspect.
The man was granted name suppression on all 69 charges he's facing which include 48 counts of making an objectionable publication, 13 of possessing objectionable publications and two counts of indecent assault against a boy under the age of 12.
The man is also facing firearms, fraud and minor drugs charges.
Both he and his 32-year-old partner, also from Te Awamutu, were arrested without incident at a Christchurch house on June 20.
The woman has been charged with making an objectionable publication and appeared late last month in the Christchurch District Court.
Waikato police crime manager, Detective Inspector Chris Page, said inquiries began after investigations by Italian authorities revealed a New Zealand connection.
"As a result of those inquiries they [gave] New Zealand police through Interpol a number of images, including one that appeared to be a New Zealand child with a male," he said.
"This led to the launching of a multi-agency inquiry that resulted in a Te Awamutu man being recognised by a Cambridge detective and the file being referred to Te Awamutu CIB."
Mr Page said despite the international connection, it was not clear at this stage whether the accused was knowingly involved in an organised group.
The arrested man has been remanded in custody to appear in the Hamilton District Court on August 17.