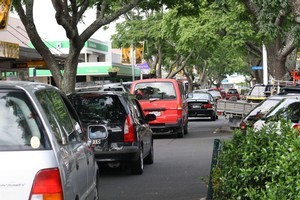 The continuing stoush over the Frankton Markets has taken another turn.
The owner of retailer Forlongs and his legal team will today meet Hamilton City Council staff before the council considers an application by the Frankton Business Association (FBA) to renew its monthly permit to operate the markets on Commerce St.
It is the latest round in a continuing spat between Forlongs and the FBA, which started in October when Terry Forlong's firm challenged the part-closure of Commerce St for the market on Saturday mornings for more than 31 days, even though they were half days.
After the parties were unable to reach a compromise the council intervened and agreed to trial a shared vehicle and pedestrian space from March under which cars travel down Commerce St while the markets run on the footpath and the parallel carparks with pedestrians having right of way.
Mr Forlong could not be reached for comment yesterday but the general manager of city infrastructure, Chris Allen, confirmed Forlongs had asked to talk to the council about some observations it had about the market.
He said there was nothing secretive about the meeting and it was fair and reasonable for council staff to see them.
"I can speculate that it might be concerning [what's] happening on a Saturday morning [on Commerce St] ... we'd be more interested in any sort of factual observations they might want to make about how [the market] is operating on a Saturday."
But a Frankton retailer, who asked not to be named, had concerns about Forlongs meeting the council before the FBA's application.
The permit expired on Saturday and the market needs a new one to continue operating.
"As far as we knew and as far as councillors knew everything was sorted so to have these secret meetings is wrong on so many levels."
Mr Allen said council would today hear public submissions about shared zones such as on Commerce St, where vehicles must give way to pedestrians.
The council will decide on the implications of this probably by next month but Mr Allen said the market was not dependent on shared zones.
Councillor Dave Macpherson said councillors had agreed the shared space option was the best compromise but now "seemed to be getting fightback from council engineers who don't particularly like shared spaces" and were saying it was too hard and expensive.
He warned the council was entering an "unusual and dangerous" process by meeting Forlongs and believed the next decision should be made when council received the report they had asked for about how to introduce shared spaces on a long-term basis.
FBA chairwoman Edwyna Carlson said the shared concept appeared to be working and stallholders were happy, Mr Forlong was opposed to the idea.
"It hadn't been a problem for more than 20 years and now it is."
"I think he has a vendetta to close the markets down, I don't think it comes down to business at all. He just wants to get the market closed."
She said the markets would run as a shared space until September when the FBA would reapply for a further 31-day road closure.