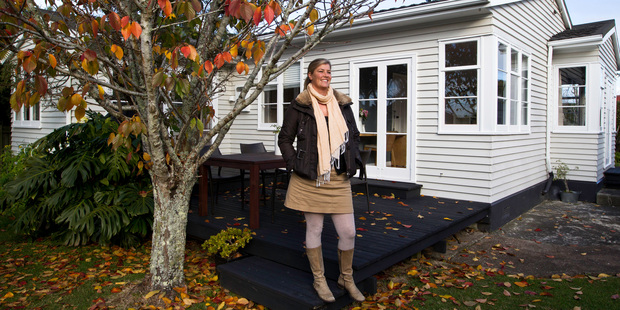 Juliet Blair did not really intend to make $256,000 tax-free in one year from the red hot Auckland real estate market.
But that's what happened when she initially rented, then bought, her Orakei house off Kepa Rd.
She and her partner bought the three-bedroom bungalow at 42 Rautara St for $590,000 last year. They sold it for $846,000 at auction last week, surprising real estate agents.
"I was surprised but pleasantly," Ms Blair said. "We accepted a [conditional] pre-auction offer which was lower but we knew about 70 lots of people had gone through it."
Megan Jaffe of real estate agency Ray White said the house had not had an extensive makeover, but it still pulled the big dollars.
About $40,000 of work was done on it before the sale.
More than 100 people packed the auction room for the house, which was listed with a capital value of $610,000.
"There were 47 vigorous bids from seven purchasers before the home sold for $846,000," Megan Jaffe said.
Feedback from buyers had been that it was "a staggering price".
The house had been on the market for only a week, and 72 groups visited during open-home showings in the first weekend, she said.
"The strong buyer interest necessitated the auction be pulled forward as a short notice auction," she said.
The buyer was a business executive, with two pre-teen children who had been renting in Orakei and had been looking to buy for some time.
"Orakei has become very popular with executives and families as quality homes on good sized sections are in good supply, with a very convenient location and lifestyle to the city and the Bays," Megan Jaffe said.
Ray White agent Mike Zelcer, who sold the house, said the house had many desirable features including a flat section "not too large, not too small, at 513sq m."
Ms Blair said that pre-sale work included landscaping, exterior and interior painting, deck staining, rewiring and the installation of a new hot water system.