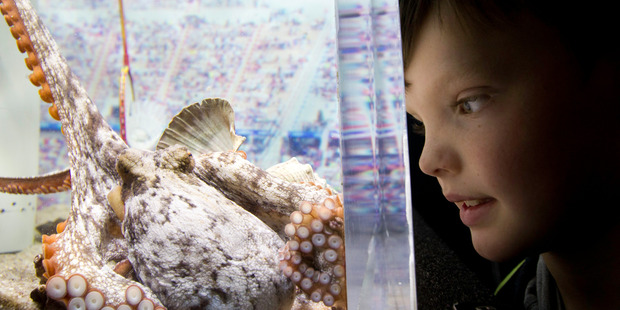 Mantis shrimp and medicinal leeches are some of the wacky creatures in Kelly Tarlton's Weird and Wonderful attraction these school holidays.
Kids can touch plankton in the interactive shrimp tank and get up close to an octopus feeding.
Christopher Wright, an avid reader of aquarium books, has "no bigger passion" than marine life, says mum Anishka.
His sister Natasha is fascinated with the resident octopus.
"His tentacles are so cool, he can get anything to stick to them," she says.
With mostly rain predicted for the school holidays, there's plenty to keep the kids entertained for free in Auckland over the next two weeks.
Spanish lessons are being held at the Birkenhead and Pt Chevalier libraries, where children can learn basic words and sing songs.
Auckland Museum has free entry to the Wildlife Photographer of the Year exhibition and kids can burn energy learning the latest hip hop dance routines at Manurewa marae.
Motat is hosting the ON exhibition, with activities aimed at teaching children about different types of energy.
The exhibition includes the Fonterra Science Roadshow with live demonstrations.
Auckland Zoo is holding the Zoolympics, where kids can measure their sporting prowess against the animals with 10 different challenges.
There are also productions of The Gingerbread Man at the Bruce Mason Centre in Takapuna and Treasure Island - The Panto at TheatreWorks in Birkenhead.