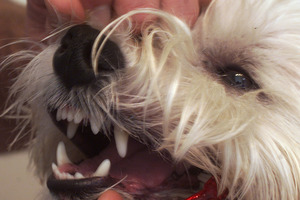 File Photo / NZ Herald
A survey showing 80 per cent of dogs over the age of three have gum disease has spurred a nationwide dental awareness campaign.
A study originally published in the Veterinary Radiology journal showed that four out of five dogs in Europe and Australia had gum disease.
The findings prompted Dentastix dog chew brand to conduct a survey in New Zealand, which found similar results.
If untreated, bacteria and infections from gum disease can spread to the animal's bloodstream, causing heart, kidney and liver failure and death.
The Dentastix survey results showed 61 per cent of New Zealand dog owners did not brush their dog's teeth at all, with 55 per cent saying they did not realise they had to and 15 per cent saying their dogs did not like it.
Ninety per cent of dog owners did not believe their pets even had gum disease.
The results prompted 200 vets from around the country to band together in a month-long campaign to address poor canine dental health.
Doggie Dental Month, launched in conjunction with Dentastix, offers free dental check-ups for dogs anywhere in New Zealand until the end of July.
Auckland veterinarian Dr Alex Melrose said many New Zealand dog owners saw brushing their pets' teeth as too expensive or in the "too hard basket".
He hoped the free dental checks would be a good way for owners to learn about their dog's oral health, hopefully reducing the worrying statistics.
"What research has found is that nearly two-thirds of dog owners don't take care of their dog's teeth, not because they don't care about their pets, but because they're not aware of the importance of dental health to overall optimum health, longevity and quality of life," he said.
"Owners should be checking their pet's teeth regularly. They need to prise open their mouth gently, pull back their gums and check along each tooth and its adjacent gum line.
"Things to watch out for include bad breath, brownish or discoloured teeth, swollen, red or receding gums, wiggly or cracked teeth and any unusual growths," he said.
Clare Hughes of the Kohimarama Veterinary Clinic said failing to brush dogs' teeth was detrimental to their internal organs.
"We do get clients that bring their dogs in that haven't brushed their teeth for a few years and the state of their mouth is shocking."
Ms Hughes said awareness of the problem had increased in recent months, with a number of pet food companies running dental campaigns.
- APNZ