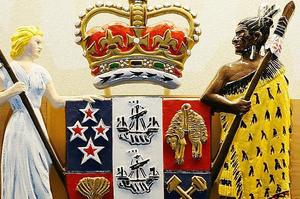 A former Bay of Plenty Steamers rugby player has been found guilty by a jury of kidnapping his partner.
Wade Pereira, 25, stopped the woman leaving their Rotorua home over a three-day period last November.
The complainant told police she thought she was going to die and was so scared she wet herself at least twice. She was able to escape and call police when somebody came to the door on the morning of November 21.
Pereira had previously pleaded guilty to two counts of injuring with intent to injure the complainant, one relating to an incident on an earlier date.
In her closing address, Crown prosecutor Laura Owen told the jury the complainant was repeatedly punched, headbutted and smothered with a blanket after Pereira returned home about 4pm on November 19.
At least twice that night she tried to leave but was thrown away from the door by Pereira, who had also taken her mobile phone.
Ms Owen said the violence continued the next morning, leaving the complainant physically and emotionally unable to leave, even when Pereira went to the supermarket.
"She said several times she thought he was going to kill her," Ms Owen said.
"That was likely to have been at the forefront of her mind."
The complainant, who is still in a relationship with Pereira and has been exchanging letters with him since the incident, told the court during cross-examination she was not detained against her will and had chosen not to leave the house, contradicting her police interview and the transcript of her 111 call.
Ms Owen asked the jury to keep in mind the "controlling nature of the relationship" and the power Pereira had over her when deciding which version of events was the truth.
In his closing, defence lawyer Harry Edward told the jury the 111 call was made not out of fear but out of "anger and disappointment at the breakdown of the relationship".
He said her claims of being locked up by Pereira were lies which she recanted under oath.
The jury of six men and six women took less than two hours to reach its unanimous guilty verdict and Pereira was remanded in custody for sentencing on August 2. The kidnapping conviction carries a maximum penalty of 14 years in prison and the two assault charges five years each.
In 2005, the then 18-year-old was found not guilty of rape.
In July last year he was banned from all rugby for two years after refusing to take a drug test.
He has also previously been banned from his Whakarewarewa club after an altercation at the clubrooms.
For more articles from this region, go to Rotorua Daily Post