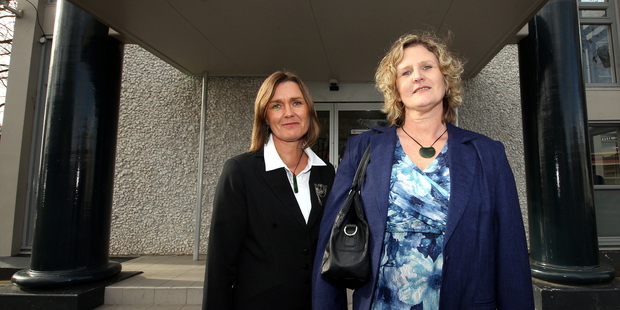 A woman who alleges she was kept as a sex slave and regularly raped - even as she endured a painful miscarriage - has won a legal battle to allow publication of her name so she can share her harrowing story.
Sex victims are automatically granted permanent name suppression to protect their identities.
But Heather Walsh successfully argued for her name to be published, saying she wanted the world to know her story.
Farmer William Paul Cornelius, 79, lost his bid for name suppression after a final hearing in the Wanganui District Court yesterday.
He first appeared in court in 2009, and was facing a total of 14 charges representing numerous rapes, unlawful sexual connection and abduction.
After 25 hearings Cornelius was deemed unfit to stand trial as he had developed mild dementia. Yesterday, Judge David Cameron stayed all charges but after viewing all the evidence, concluded that using the civil test for liability Cornelius was probably a rapist.
However, as he was not fit to stand trial, he was not convicted on any of the charges.
Cornelius left court yesterday a free man. But now his alleged offending against Ms Walsh can be revealed.
Yesterday was the first time she had seen Cornelius since her escape. She said it was an overwhelming experience.
She was disappointed her claims could not proceed to a trial, but was happy she could speak out publicly.
Ms Walsh has been supported by sex abuse campaigner Louise Nicholas, a survivor advocate for Rape Prevention Education.
"It's been a huge day," Ms Walsh told the Weekend Herald.
"I think it's so great. People will know now who he is. It's liberating for me. I've lived with so much fear of him for most of my adult life ... To not feel like I have to hide any more is just so new."
The decision to stay the charges was met with mixed reaction.
The Sensible Sentencing Trust said the decision was "disgusting" and "a travesty".
"Our thoughts are with the victims. With debacles like this happening it is no wonder this country has such a high crime rate," said spokesman Garth McVicar. But a leading criminal lawyer, Nigel Hampton, QC, said the decision was not unusual.
"If the medical evidence supports the finding of the judge, then it's part of due process," he said.
"So there is no great impact in terms of precedent value. These things are and have to be judged on their own facts. Alleged sexual - and other - offenders have not gone to trial, on similar basis, a number of times in the past."
In 2009 Ms Walsh made a 60-page formal statement to police, outlining her allegations against Cornelius.
She met the man, almost twice her age, in 1985 after answering a job ad he placed for someone to assist with his young son's correspondence schooling.
He lived on a remote North Island farm with no power or phone line but Ms Walsh agreed to take the job after visiting the property.
Things started well, her statement said, with her helping the son with schoolwork and helping with household chores.
About a month later the pair had an emotional conversation about a personal and traumatic incident Ms Walsh had suffered as a teenager.
Ms Walsh told police they had consensual sex, during which she decided it was a mistake. She was not upset but felt their actions were wrong and vowed it would not happen again.
"From the next day onwards, he just changed," she said in the statement.
"He told me that he loved me and that we were going to have babies together ... I didn't want to have sex with him again ... It wasn't long after that particular time that he started showing signs of aggression."
She alleged that days later he entered her room at night and despite her protests, he raped her. The rapes allegedly continued regularly, at least three times a week.
Ms Walsh believed that if she tried to stop him he would get angry and violent. "It was terrifying ... I feared what he was capable of.
"I had told him no ... but it didn't seem to matter ... I felt quite powerless to stop him. Also, because I had consented the first time, I felt that I had contributed to the situation."
She was moved into Cornelius' bedroom. He rarely allowed her to bathe, forbidding her from looking in the mirror and limiting her diet.
He told her he was friends with the police, making her believe she could not go to them for help.
Then Ms Walsh fell pregnant.
"He said he would kill anyone who tried to help me. He also told me that if anyone ever came to get me he would kill them," she said.
The first time she told him she wanted to leave, she told police, he became violent.
Despite her pregnancy, which Cornelius knew about, Ms Walsh alleges the rapes continued. She was given less food and rest and a heavy physical workload. Saying she was "fat", she claimed he made her run around the farm barefoot to lose weight. "I was repeatedly terrorised with threats of torture, forced abortion with wire, imprisonment in a cave, starvation, being eaten alive by pigs, death, and death to any babies born to me," she told police.
To prove what he could do to her, she alleged that Cornelius performed cruel acts on animals including cutting an unborn calf from its mother and feeding it to wild pigs he kept on the property.
"Every day I lived in fear that he would kill me."
Ms Walsh ended up miscarrying her baby, during which and despite her cries of pain she alleged that Cornelius raped her.
"I knew that I had miscarried, but I don't know if he'd realised ... although I was terrified, I knew I had to get out of there before he made me pregnant again."
Again, she told him she wanted to leave. She alleged Cornelius punched her repeatedly in the stomach, saying: "That's fine, but you're not leaving with that baby ... I'm going to take you out to that shed ... [to] get rid of it."
After several attempts to leave the farm, she set about planning her final escape. She spent six weeks waiting for an opportunity.
Eventually after five months, she escaped by taking Cornelius' truck while he was out hunting and catching a bus to Tauranga, terrified he would be waiting when she stopped.